The Dales
Shap to Kirkby Stephen, 20 miles, 8¾ hours
We've left the Lakes behind, so welcome to the Dales. The country has undeniably changed shape. No lofty serrated peaks, we now have limestone underfoot and the tumbling becks are peaty brown rather than crystal white. But we're looking forward to it.
We start off with a day that is neither Lakes nor Dales, but which shares more characteristics with the latter. It starts with moorland, takes in farms around Orton, then two more moors before descending into Kirkby Stephen. There aren't any shops or stops on the route, and it is a long 20 miles, so we had to ensure we were well provisioned. Happily, this was not a problem, thanks to Margaret at Brookfield in Shap. The huge breakfast would have kept us going a large potion of the way, but the real star was the packed lunch. This was no ordinary packed lunch. For the same £5 that elsewhere got us a sandwich, crisps, mars bar, and an apple, from Margaret gave us a sandwich, crisps, homemade tea bread and cheese, homemade almond tart, homemade fruit cake, chocolate, apple, and a banana. I finished mine three days later.
The day started by crossing a noisy and wet M6 and making our way onto Crosby Ravenworth Fell. It was a misty day, which made for a fantastically atmospheric moor crossing, with boulders and wayposts looming out of the mist at regular intervals. Unfortunately we were followed across the moor by a group of three Australians, the gentleman among which had a very carrying voice.
The going underfoot had remained as wet as on previous days through the Lakes, but rather muddier. There was one particular gate with an absolute mire of slurry on the other side: another day to be thankful for gaiters and spare socks. Elspeth also had to bring out her expert cow whispering skills to move a whole herd that were massing at a gate on the path: as Dad said when I showed him this photo, "That looks like a gate you have to go through".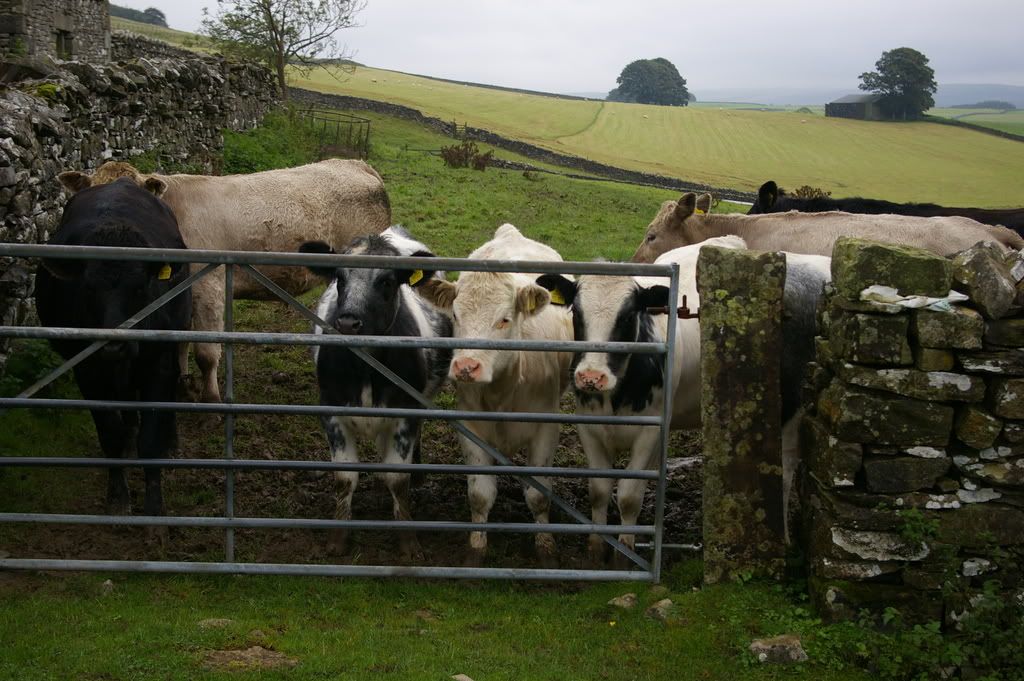 I was all for ushering the cows back to the gate so that the Loud Australians were faced with the same challenge.
Sunbiggin Tarn was a disappointing pond barely distinguishable from the marsh around it. It had been our target for lunch, and as soon as we reached it we began looking for a spot to rest for a few minutes. The trouble is that marshy moor is not really prime lunching real estate, so we pressed on until we came to a flat wooden bridge over a particularly damp bit, and huddled in the drizzle as we explored our packed lunches. The fruit cake was particularly good.
Fungus, not fruit cake:
I'm not sure what happened between our lunch spot and the Severals Settlement (a very important archaeological site, not that I'd have noticed had I not been told), but it came over all sunny. We met a group of three ladies from Washington State, the Three Or Two Or Four American Ladies, who were very pleasant company and offered to take our picture. Apparently there were four of them but only three walking that day, and when we came to meet them again the next day, they were reduced to two. I hope that at least one of them got to the end.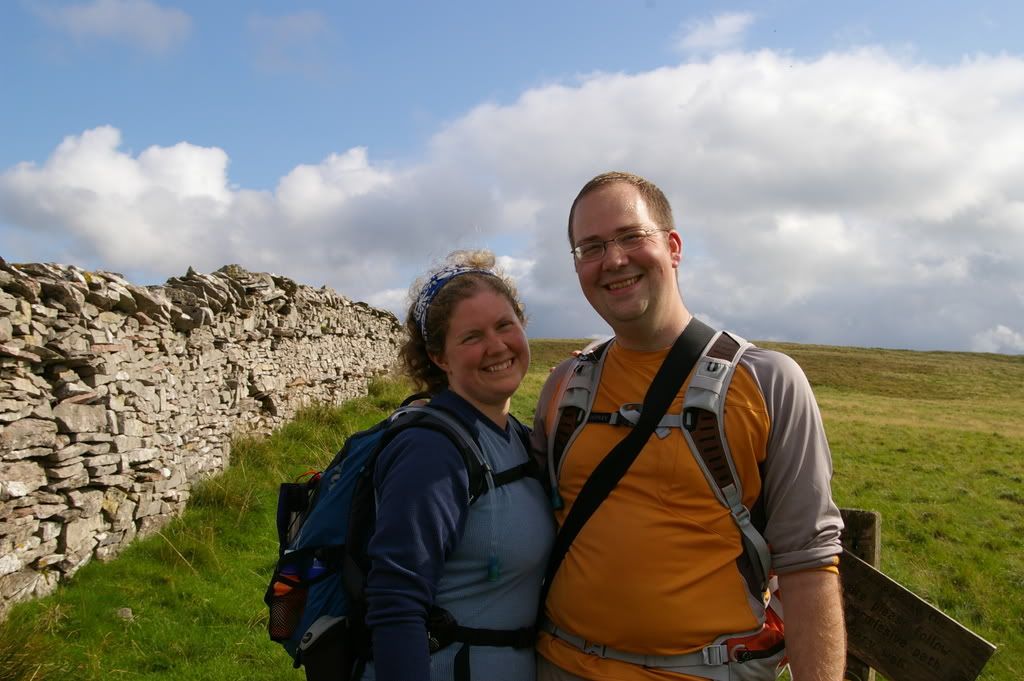 After the settlement, the path drops down to Smardale Bridge, a good stopping place with only 5 miles to go. We picked a nice spot to stop and change our socks: none of the walkers who came past chose to stop with us. I assume their decision was stinky sock-related.
We also found my favourite coast to coast sign of the whole walk: something about the lichen and snails enjoying it!
We raced up the hill out of Smardale, pausing to see the viaduct across the valley head: one of the great surprise sights, to see a huge bridge in the middle of nowhere. We were then on the way down into Kirkby Stephen (or, as all Americans we met would have it, Kirkby (pronounce both k's) Stephens): it had only taken an hour and a half to be driven out to the coast from the town, but 6 days to walk back! We were very pleased to emerge onto the main street only a hundred yards down from the B&B, after the longest walk we've ever done.
When we got there, Old Croft House was fantastic and exactly what we needed: the first B&B with a bath, and all sorts of foot care including a foot spa and massager. We were treated to tea and hot scones with homemade raspberry jam! We had made really great time and were very cheerful. Not only were we there in time to go to the Coast to Coast fish and chip shop for dinner, but we even beat our bags there. It was with pride that we marked the miles on our map that evening.
Kirkby Stephen to Keld, 12¾ miles, 7 hours
Day 7 is a transitional day. The day starts by climbing up into the Pennines to the watershed: from this point on rivers will drain to our destination, the North Sea rather than our starting point. The day then ends at Keld, which sits neatly at halfway along the route. A further landmark at Keld is the crossing of the Coast to Coast by the Pennine Way, meaning that Keld is a popular spot for walkers: without this it would just be another small Dales hamlet.
We started off the day with a filling breakfast with other peripheral Coast to Coasters (none so interesting that I am moved to even name them), and struck out for the Pennines. The route across Nine Standards Rigg varies seasonally; an attempt to counter erosion. We had been advised by almost everyone we met to avoid the long route across the top that should have prevailed at this time of year: stories of measuring how wet it was on the moors by the tidemarks on walkers' jumpers being prevalent. After suffering wet feet for most of a week, we heeded the advice and planned on making a decision once we could see what the ground was like from Nine Standards.
Elspeth found a handy seat on the climb, to admire the views.
Naturally, the cloud started coming in the higher we climbed…
…and reached very misty proportions by the top of Nine Standards. Now, I'm sure I counted 10 of them, but since there was no way to see all of them at the same time, I may be mistaken. A shame though, as they are rather interesting constructions. We later noted that the cloud lifted a couple of hours later, and the tardier walkers had glorious views from the tops.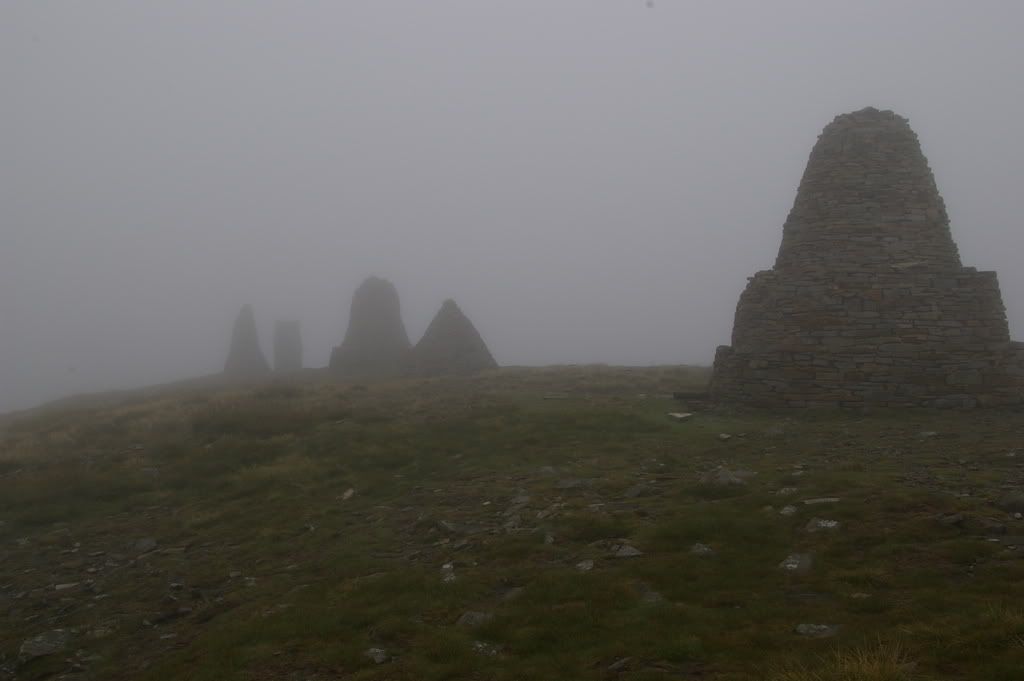 As it was, we arrived at the top in silence and solitude: atmospheric in more ways than one. This was the watershed, and I was moved to pour some water on to the top for half of it to move its way West and the other half East. Such romantic notions were quashed by the realisation that it would end up in the next poor walker's boots, to be soaked into newspaper at day's end.
We were soon joined by half a dozen small groups of walkers, including two of the Three Or Two Or Four American Ladies and Dave Digger. This made photographs easier.
Most other walkers were now heading back down the path to the green route, a clear track that led around the hill to the road into Keld. We, however, are not the types to be put off by Deep Bog and a blanket of mist, and so we decided to take the blue route – heading almost directly South from the top and then picking up a shooting track. This avoided the wettest looking patches (based on the OS map, of course, since we couldn't see anything).
The two sets of Americans had had the same idea, and so we set off together. Quite a sensible idea, really, given the circumstances. This was the first time we had joined up with another group and it was quite pleasant: chatting about everything from the economic situation to proper English beer. I even took the only photo of walking companions over the whole holiday. Dave on the left, Barb and Janice (maybe) in the middle.
The path over the moor was very indistinct in places, and there were great stretches of bog to cross. We all had a really great time tackling these, and Elspeth and I gained great kudos for being able to identify the slight path at all times, even following great detours to avoid too much mush. It was good to be leading the group between us, making good use of navigational skills. It also highlighted to me how valuable experience of the terrain is: we've wandered about on peat moors countless times between us, and it was noticeable how valuable this was in tackling routefinding on both a macro and a micro scale.
As we dropped off the top of the moor we came to a shooting lodge which was a perfect setting for a stop for lunch, having lost the cloud – a combination of us losing height and the cloud base gaining it. I like to think it was more us than the cloud. Dave took delight in the Grouse Butts, as may be expected from an American.
The river leading us into Keld held promise of waterfalls, and also these lovely turbulent patterns below one of the bridges.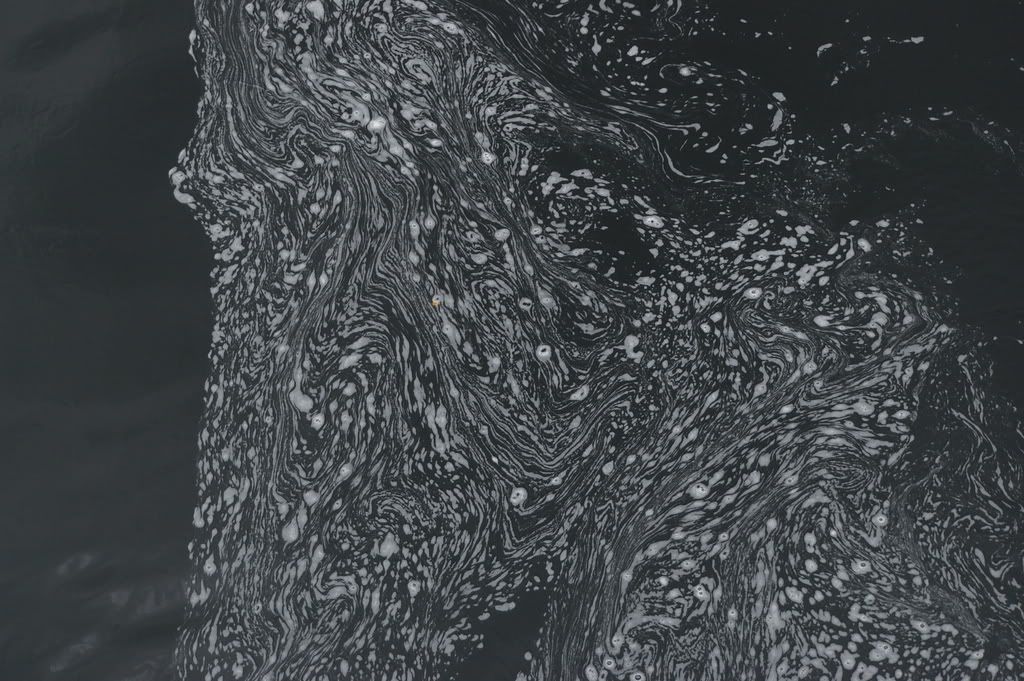 We had been promised a pub in Keld Lodge, and were not disappointed: a little bar, but with three different beers on, formed a great place to stop for a post walk rest and more chatting with Dave.
Butt House was the accommodation for the night: quite basic but nonetheless very welcome. Eight of us were staying – all Coast to Coasters – and dinner was served to us all together, providing for a very convivial atmosphere. Shepherd's pie and sticky toffee pudding, washed down with a couple of bottles of Black Sheep. Ahhhhh. We had the pleasure of sitting with Dave and Harry, a new companion. Harry is becoming a legend on the walk, a very gracious American gentleman on his 6th annual crossing. We later found that he started the walk 6 years ago in his 77th year: now that's good going.
May he have many more. Keld was also the site of our first almost-meeting of Julia Bradbury, who was recording for a new walking series about the Coast to Coast as we were walking. The almost-meeting extended to tripping over the camera equipment in the living room at Butt House, but that's close enough for a claim to fame.
Halfway!
Keld to Reeth, 11¼ miles, 6¼ hours
Today you are presented with two options: over the tops or down the valley. Being hill people, we chose to go over the tops, past remnants of the lead mining industry. Even though this was really interesting and provided a great day's walking, I'd advise those who come after us to take the route down by the Swale. Upper Swaledale is gorgeous and gives a flavour of the Dales that is otherwise missing from the walk. It's not as if you're starved for moors on the 192 miles, after all.
Leaving Keld, the route joins the Pennine Way for a couple of hundred yards. Waterfalls are plentiful as you walk with the river, then climbing up to Crackpot Hall, an abandoned manor house which has fallen into heavy decline. There are only a few walls left and no roof, but the Aga and bathtub still prevail.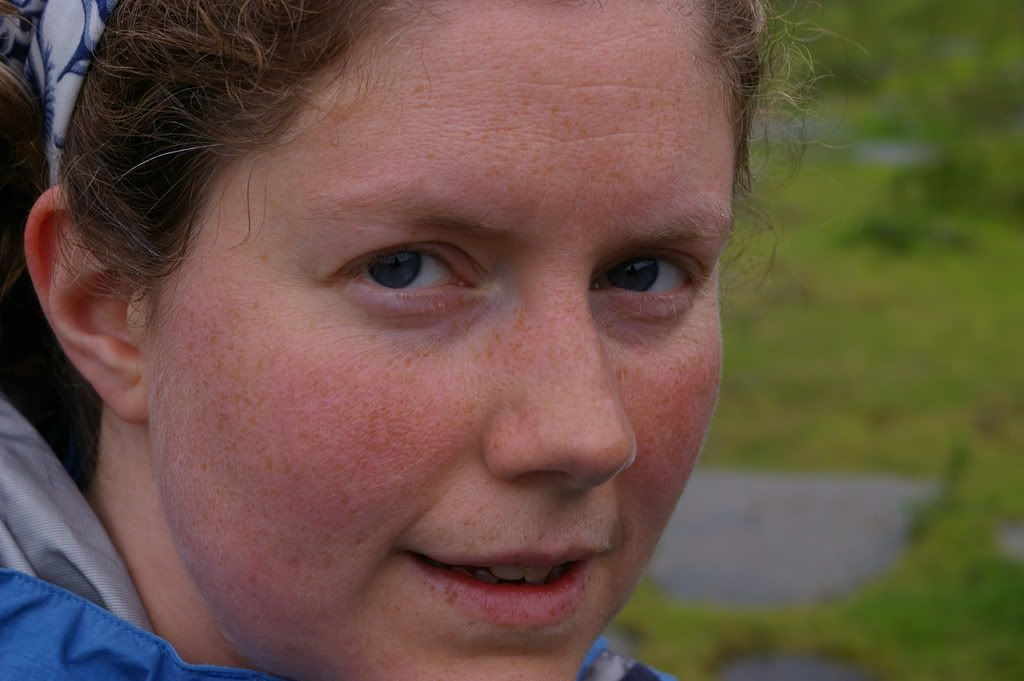 Any juxtapositions of the word Crackpot and a picture of my beautiful wife are entirely coincidental.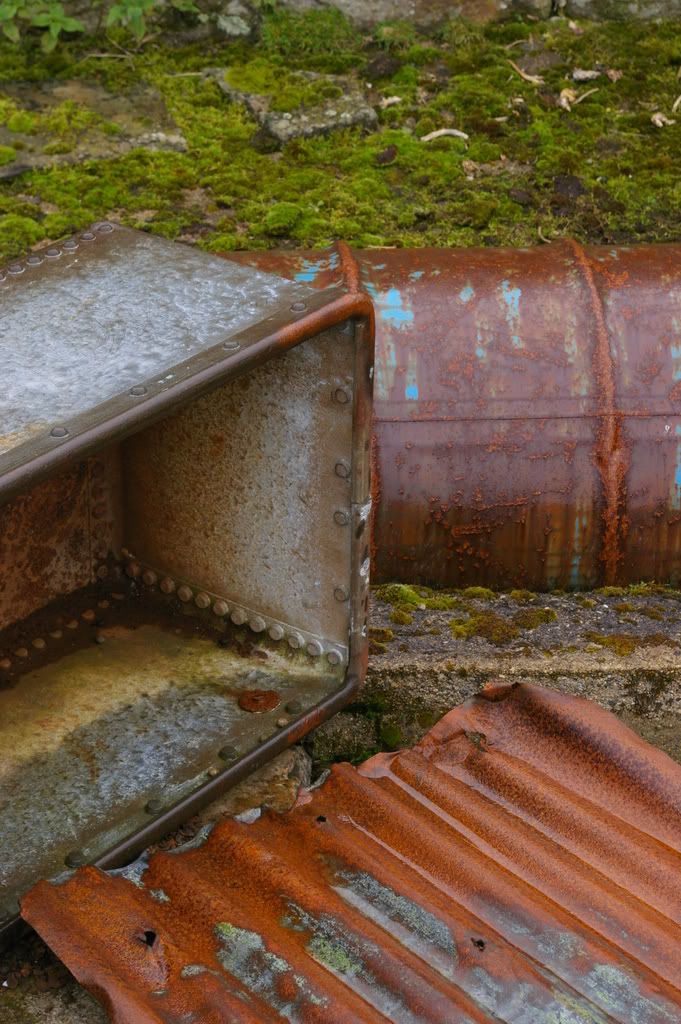 On leaving Crackpot Hall, the first lead mines are encountered at Swinner Gill, as accompanied by a rather magnificent stone bridge, captured on film at great risk to my person as I clambered/slid down the verge to the gill.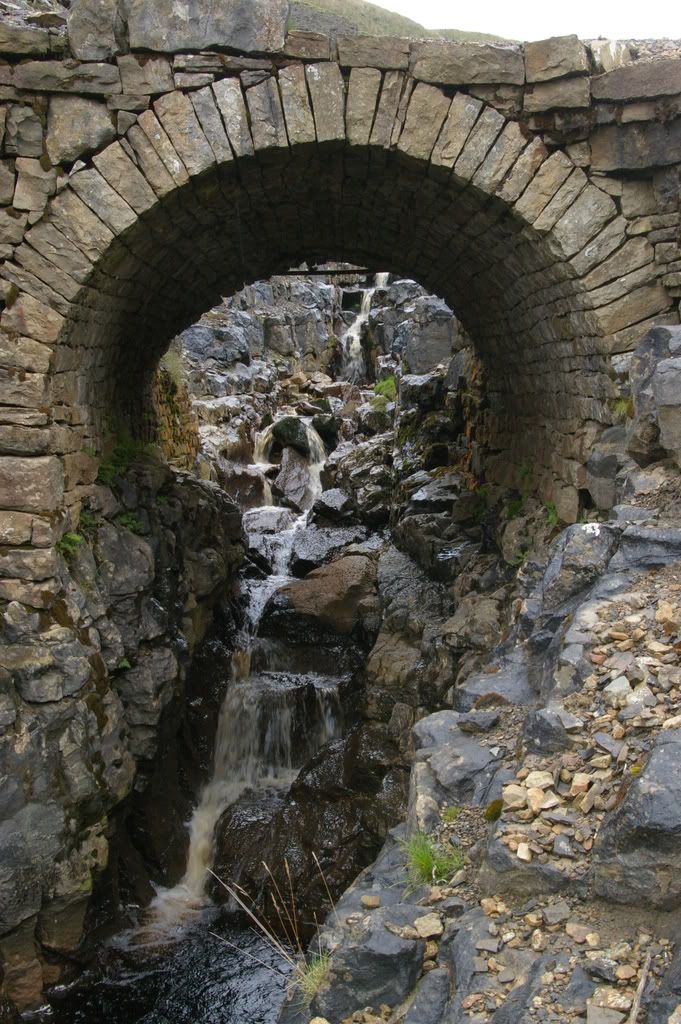 The climb up to the next moor was a lot of fun for me: lots of waterfalls to photograph (tripod left with my luggage so no decent photos - curses) and scrambling up the ravine. The shorter legged among us found it less fun, I am led to believe. After negotiating this difficult path we were surprised but pleased to find a motorway of a path across the next moor to the Gunnerside mines.
We were caught up here by the Geordies and the Group of Three One of Whom Was Danish. There proceeded a removal of trousers, so we hastened to climb up onto Friarfold Moor. Perhaps too hastily, as we lost our way slightly on the wet ground. After 'exploring the environs' we emerged into the moor to a scene of industrial devastation much greater than the decaying lead mining: gravel quarrying on the moor. It made for a rather lunar landscape that we were happy to pass through quickly, and on down to the lead smelting mill at Old Gang. Here I while away some happy time photographing rusty stuff…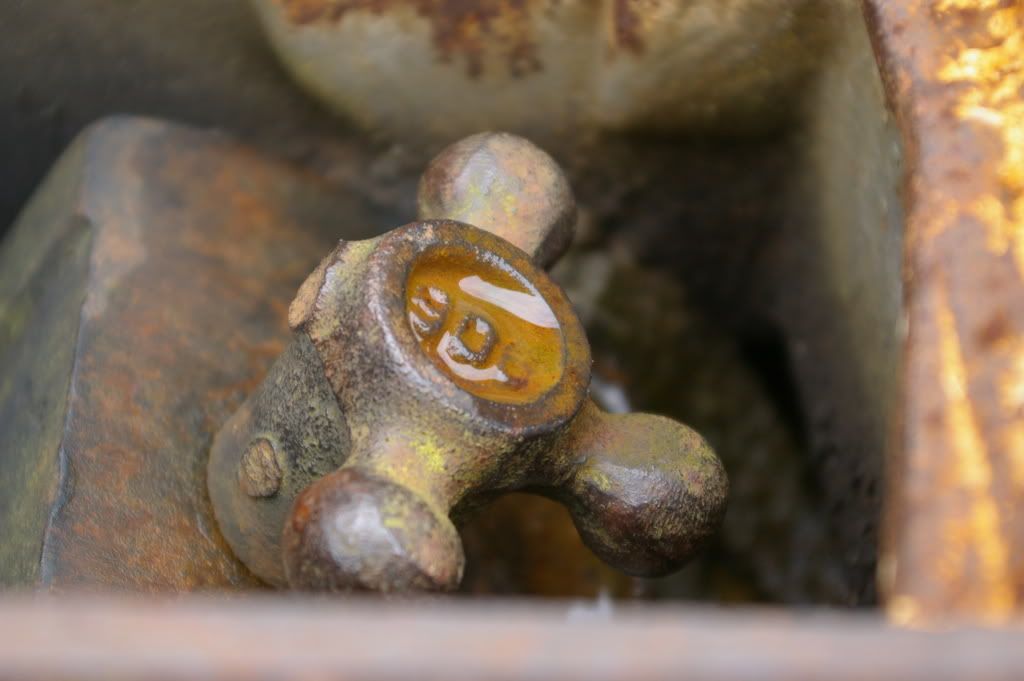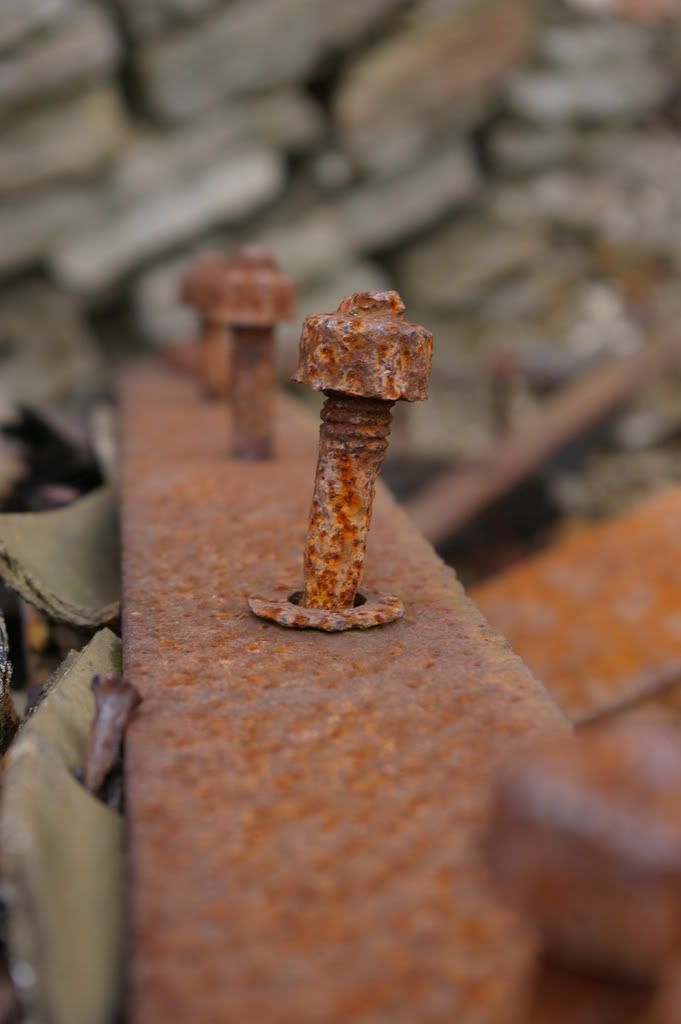 …while Elspeth found a much better shot in framing the route ahead through a ruined doorway.
The walking was easy down to Surrender Bridge where we stopped for lunch (my priority) and reading all of the information about the lead smelting process at the ex-mill there (Elspeth's). We were then skirting Calver Hill and dropping down into Reeth, well ahead of time after a short walk.
Since we were passing our B&B on the route we dropped off our rucksacks and headed down to town for ice cream and postcards. Mmmm, Brymor. On the way back up we stopped at the craft village and admired some metalwork bats: "Imagine bats that were scared of the dark". Very cool, but where would we put them?
Without wishing to be unkind, the B&B in Reeth was probably the least well organised that we encountered, especially as walkers. Cream carpets and upholstery, no newspaper for the boots, coming home after dinner to get the owner out of the bath because he wasn't expecting us back so soon… It was a nice place though: tea and cake in the evening, bagels with cream cheese and smoked salmon for breakfast, and a very enthusiastic puppy!
We met the other guests at breakfast: a couple walking the Yorkshire Inn Way (and from their state that morning, it looked like they were partaking at most of those inns). It sounds like a good walk: perhaps we'll do that one next. Today was the first day we seriously talked about what our next long distance walk would be. The bug has certainly bitten, and we're on the lookout for another one. Any suggestions?
Reeth to St Giles Farm, 14½ miles, 6½ hours
Wainwright has today another short 11 miles into Richmond, with a 23 mile day tomorrow. This doesn't seem a very sensible way to split the miles, especially for those who know Richmond already, and so we chose to carry on through to St Giles Farm, just short of Catterick Bridge. According to Jane at the farm, they get all the 'thinking walkers': sounds as good an accolade as I'm going to get.
We aimed for lunch and provisioning in Richmond and set off from Reeth into the drizzle. This was generally classic farmland walking: lots of stiles, gentle hills, and muddy patches, and consequently we made good progress, in some cases Elspeth made rather quicker progress than me owing to photo stops.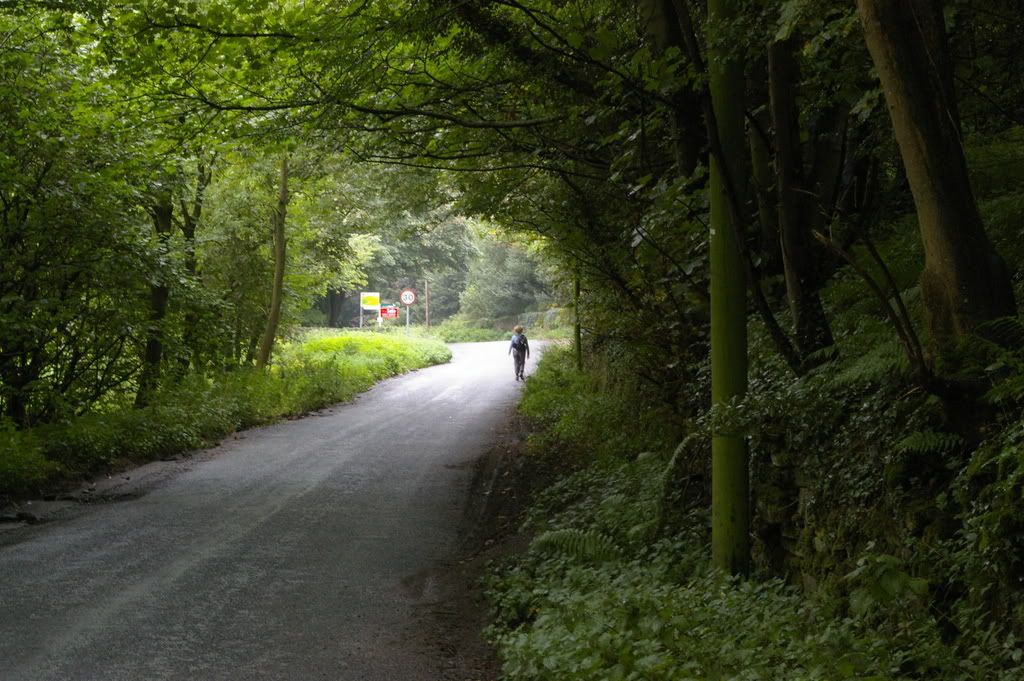 We discovered on the walk that the amount of directional signage is very variable. Footpaths were generally as well signed as anywhere, but there are great patches where there are no references to the Coast to Coast followed by signs at every junction. On balance I liked having the signs to point us on the right path without having to spend too much time routefinding from the maps: especially in the lower land where the route is more complicated. There are no Coast to Coast signs in the Lake District, but then the route on most days is "go up the valley, turn left and go over the hill to the next valley".
Here's the only road sign we saw for the Coast to Coast. I notice it doesn't give a mileage…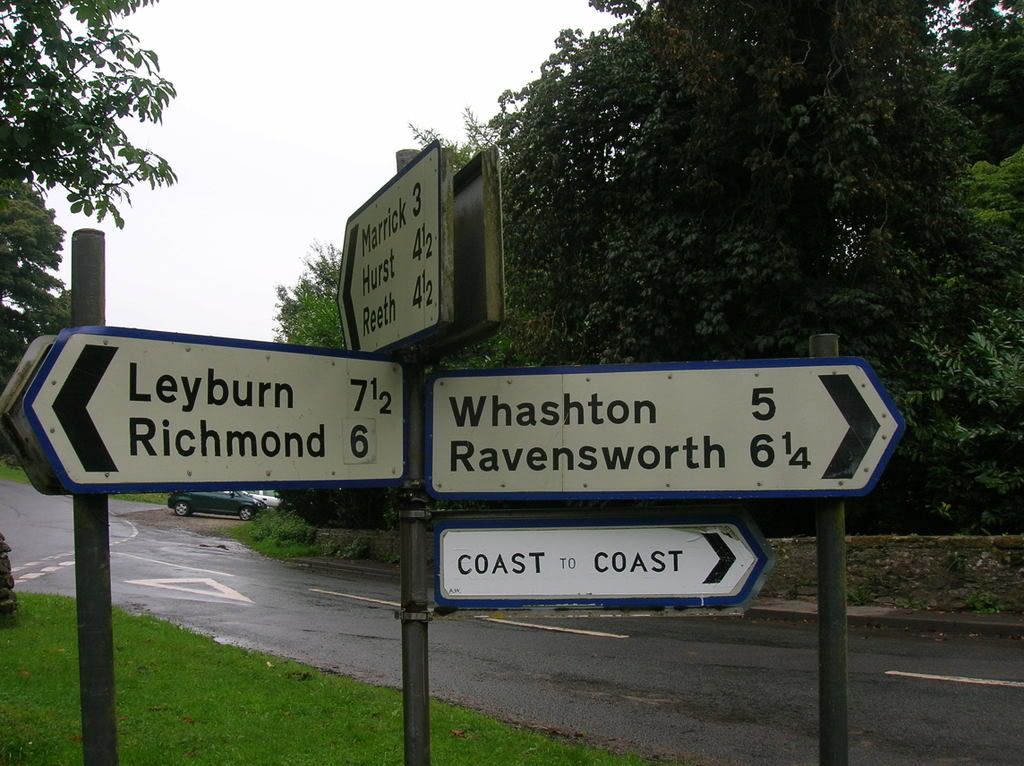 In the following shot, Elspeth presents a study of my attempts to cross a stile avoiding the mud on the other side (which I recall as being much more ferocious than it appears in the photos).
And while I'm at it here's a photo of me which Elspeth wanted me to put in but I can't recall when it was taken.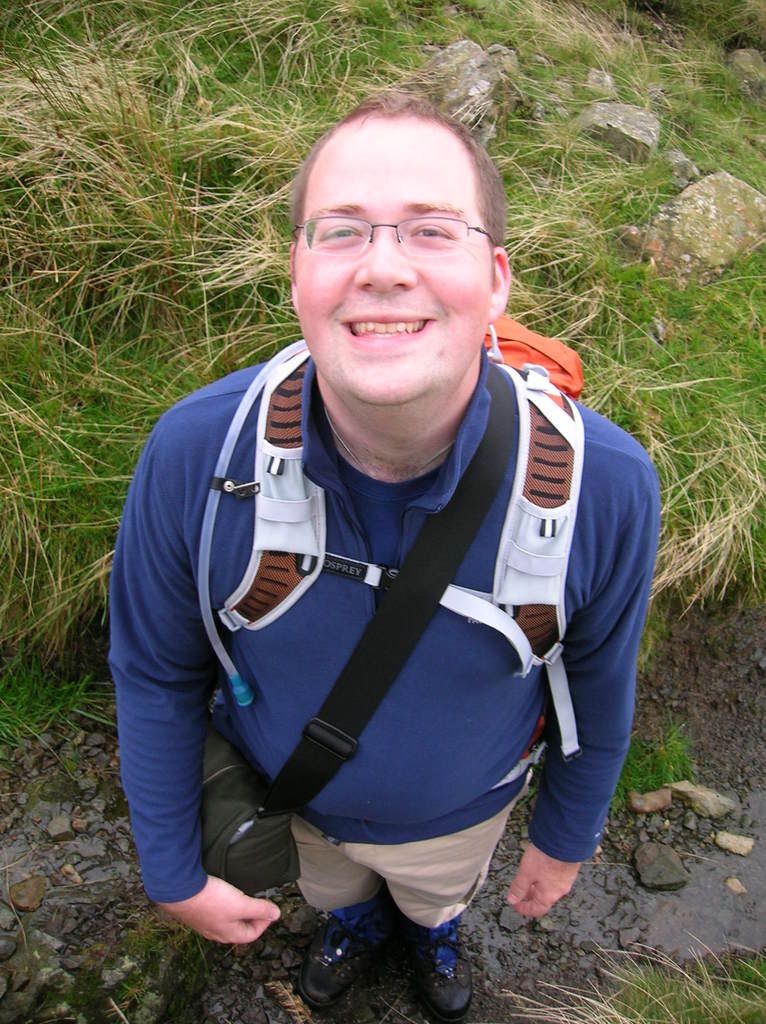 Richmond came as a shock. There were more people than we'd seen in the same place since leaving for the holiday over a week ago: the largest place we'd passed through up to Richmond was Kirkby Stephen, a considerably smaller town. We took refuge from the crowds in a tea room and had our only hot lunch of the walk, and very welcome it was too. Rarebit for me and a jacket potato with beans and cheese for the wife. You can't beat a jacket potato with beans and cheese, as a very wise person once told me.
We said goodbye to Dave in Richmond, who was having a rest day the following day, and headed south out of town for a quick few miles to the end of the day. We were both very glad to be getting part of the long day out of the way in advance, especially as it was a very muddy few miles where every other step involved sliding about ungracefully. The stretch alongside the sewage plant was particularly nasty, as may be imagined. This was followed by some nice woodland walking before the rain started falling more healthily as we neared our destination.
We were treated to tea and cake and more tea and more cake in the farmhouse kitchen with the very pleasant Jane, and our friend Harry who regaled us with tales of his interview with Julia Bradbury in Reeth. Later, a really fantastic dinner of soup, roast pork, and crumble was served to the five guests: ourselves, Harry, and The Two Blokes From The Start. St Giles Farm is definitely to be recommended.
St Giles Farm to Ingleby Cross, 20 miles, 8½ hours
This is a tough one. These are 20 dull miles, bridging the gap from the Yorkshire Dales to the North York Moors, much of it on roads. I'll be brief. Here is a typical example of the terrain.
…and another
On the longest road stretch we did both succumb to our MP3 players, so I was accompanied by some lovely brass music as we trotted along. Elspeth has a video of me dancing to one of the more upbeat numbers, but unfortunately I am unable to share this with you on this website.
We did have an encounter with an farmer who told us about his wheat crop and the problems they'd had with the wet summer. He normally sold his wheat for bread but it was looking like biscuit wheat at best when we were there. Hmmm, not a very interesting anecdote, but he kept us talking for 10 minutes. Must be the way he tells it.
Wainwright was even less keen on today's walking than we were (at least it's familiar for us – very much like walking in Bedfordshire). We both enjoyed his description of the River Whiske which we encountered more than once during the day "being destined to meander aimlessly and hopelessly around the countryside in a vain search for a contour that would give it an objective". Here it is in all its glory.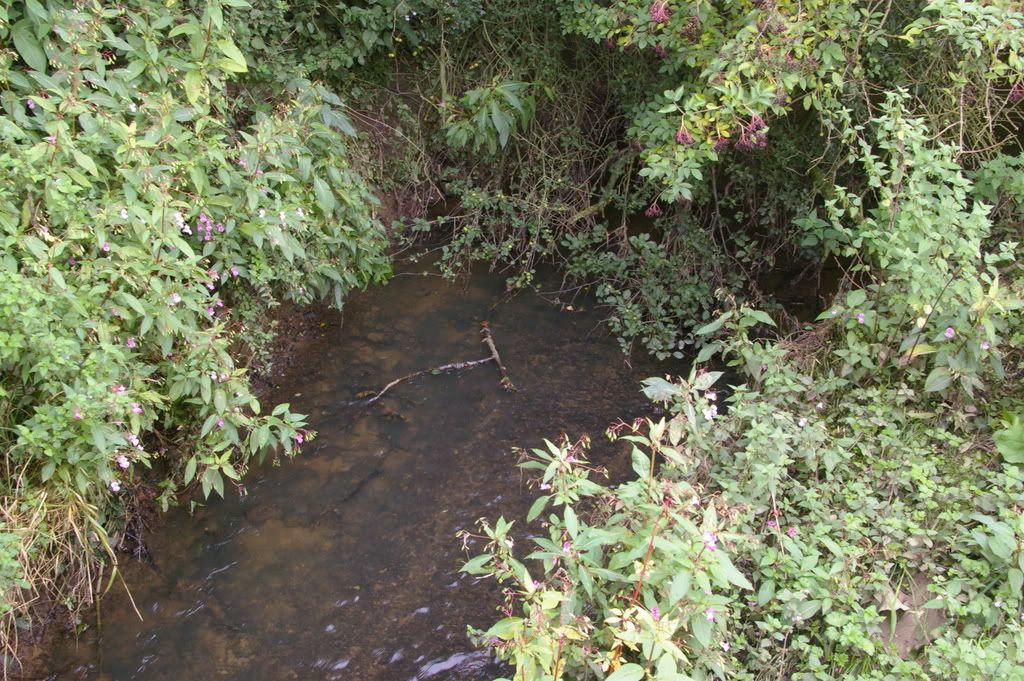 The first of back to back 20 mile days ended with sore feet at Park House, a converted adventure centre. Again our evening entertainment centred on a group meal, with the Geordies and two new walkers, Jenny and Judy, who were taking a very generous 21 days to do the walk. A very funny pair, who made good dinner companions. I think this is the best way of it: walking on our own during the day, but meeting up with fellow walkers to share experiences and a beer or two in the evening.
So, the Dales end as they began, with a lack of identity. All of today we had been walking towards the Cleveland hills as they rose out of the plain, and we were very excited about exploring the moors.
Next >> The Moors