The Lakes
St Bees to Ennerdale Bridge, 14 miles, 7 hours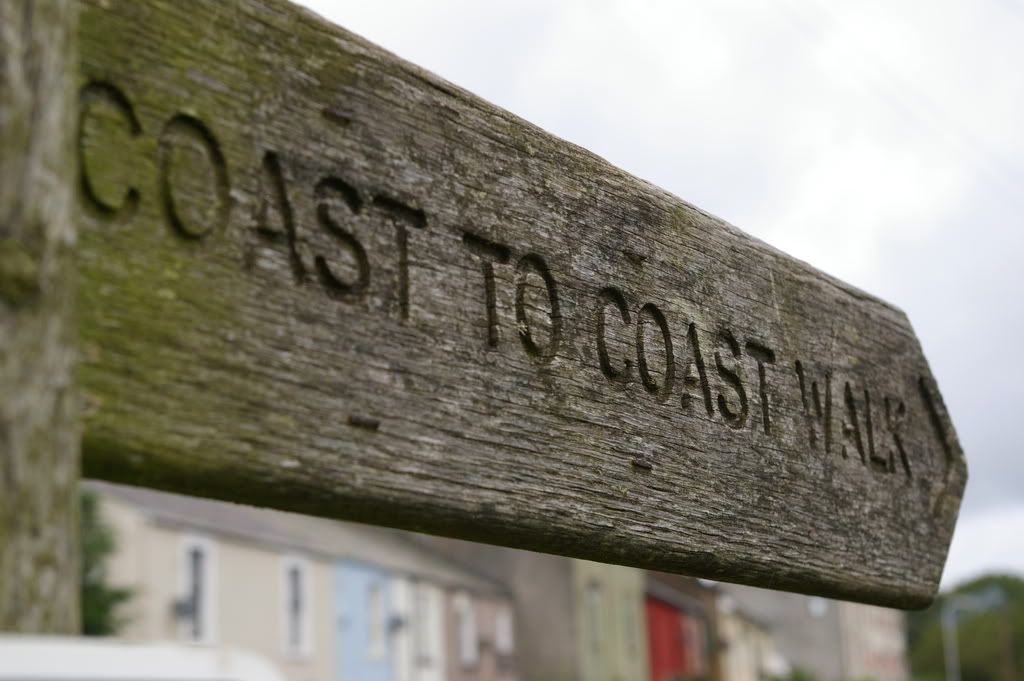 The first day of the coast to coast is quite a gentle introduction, a 14 mile day around the cliffs of St Bees Head and over the farmland of Cumbria, before Lakeland proper is encountered the following day.
We were delivered to the waterfront at St Bees by the Packhorse minibus, along with the first of our co-walkers, The Blokes From The Start. It was a grey Monday morning, and it was clear from the size of the empty car park that St Bees caters to many more on sunny summer weekends. As it was, we had the beach almost to ourselves as we crossed the sand to dip our boots in the Irish sea.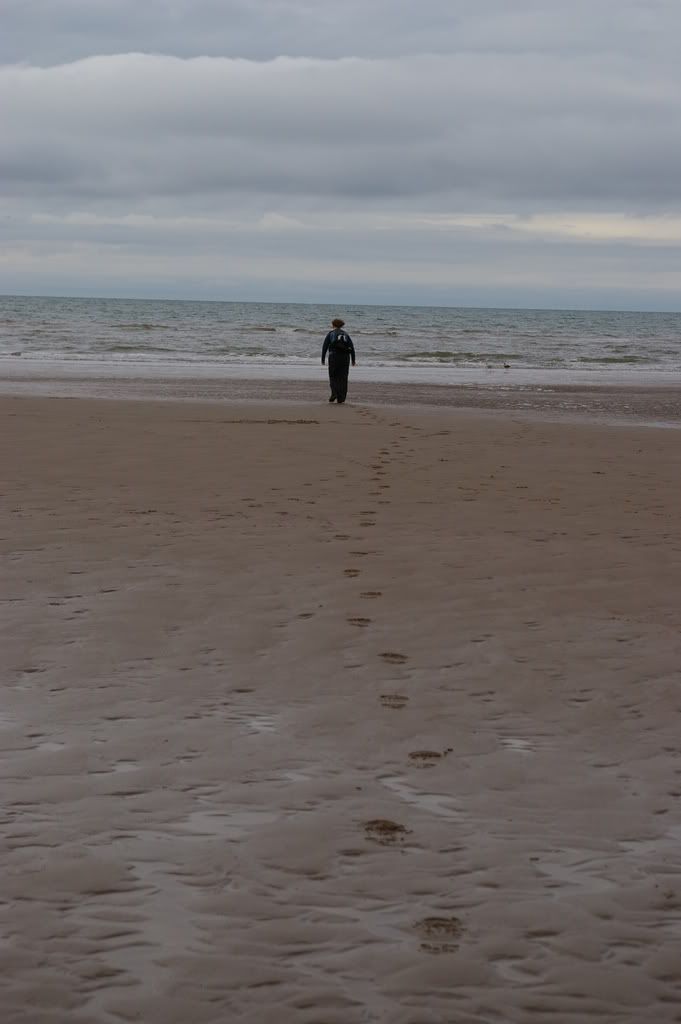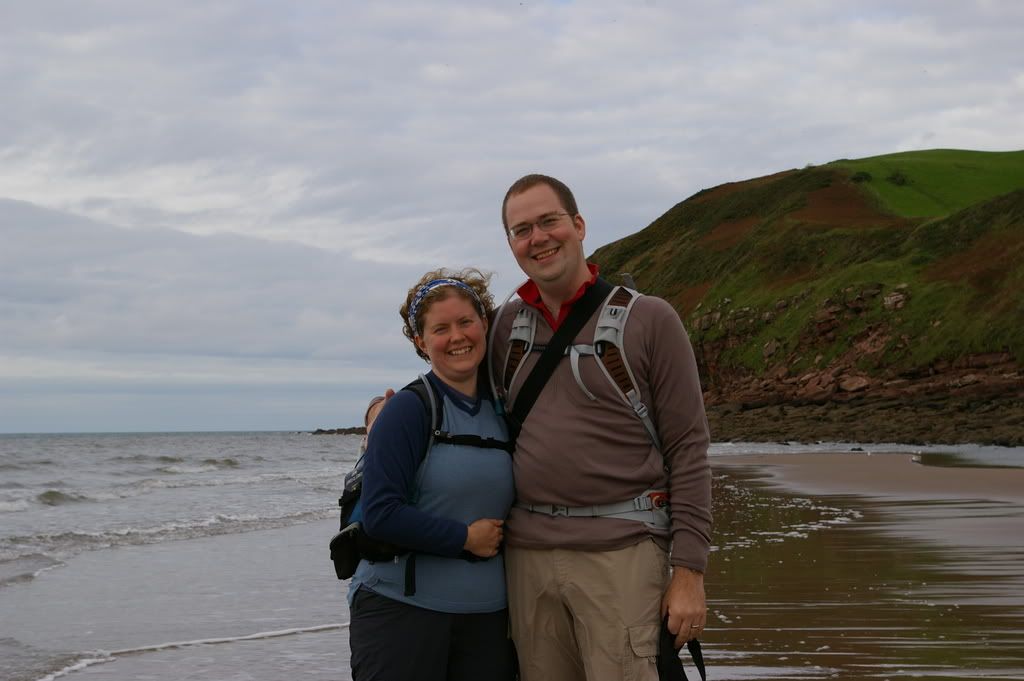 If we had our time again, I would prefer to spend longer enjoying being at the start of the walk, but we were both spurred to get on with the walk and get some miles under our belts. Stopping only to pick up our pebbles, to be carried every step of the journey, we climbed the cliffs to St Bees Head and were away.
In what we were to learn is classic Wainwright fashion, the Eastwards walk across the country starts off North Westwards, and after looping around St Bees Head for 5 miles you find yourself both West of where you started and only 2 miles down the road. What a strange way to start. But this really is what the Coast to Coast is about. Walking across the country from sea to sea is a great thing to do, but this is less about what you do than how you do it: don't just go from A to B, choose a route that gives you the best walking and the most enjoyment.
Neither of us are huge coastal walking fans, but the miles around St Bees Head passed enjoyably and easily. The moment we turned our backs on the sea, however, my knee flared up. I picked up an injury slipping on rocks in the Carneddau earlier in the year, which recurred over the moors around Ingleborough just before we came away for the Coast to Coast, to the extent that on certain downhill sections I could only manage a few steps at a time. I was seriously unimpressed by how soon it recurred, and I was really worried that it would ruin our holiday. Fingers were crossed. Slightly less concerning was the deep scratch I got from barbed wire while trying to avoid a muddy patch: thankfully from considerably cleaner barbed wire than this stuff.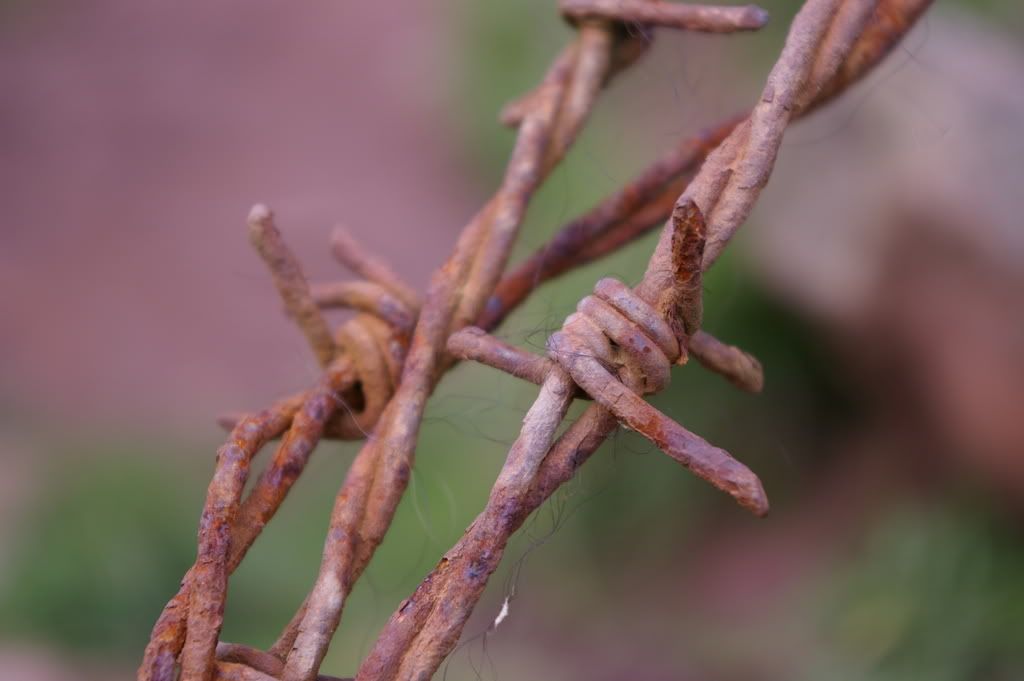 The walking from Sandwith was less easy. We were glad to have missed the wet weather of preceding days, but it had resulted in severe wetness underfoot, and the farmland was heavy going. It was then a relief to get to Dent, the first real hill of the walk. Having been passed by Standoffish Couple Number One, we then found the climb up the modest (344m) Dent rather hard work, causing some doubt about our ability to cover the ground ahead. Well, it wouldn't be an achievement if it was all easy, would it?! Dent gave us a great view both ahead to the Lake District, and back to where we started. It would be our last view of the West coast.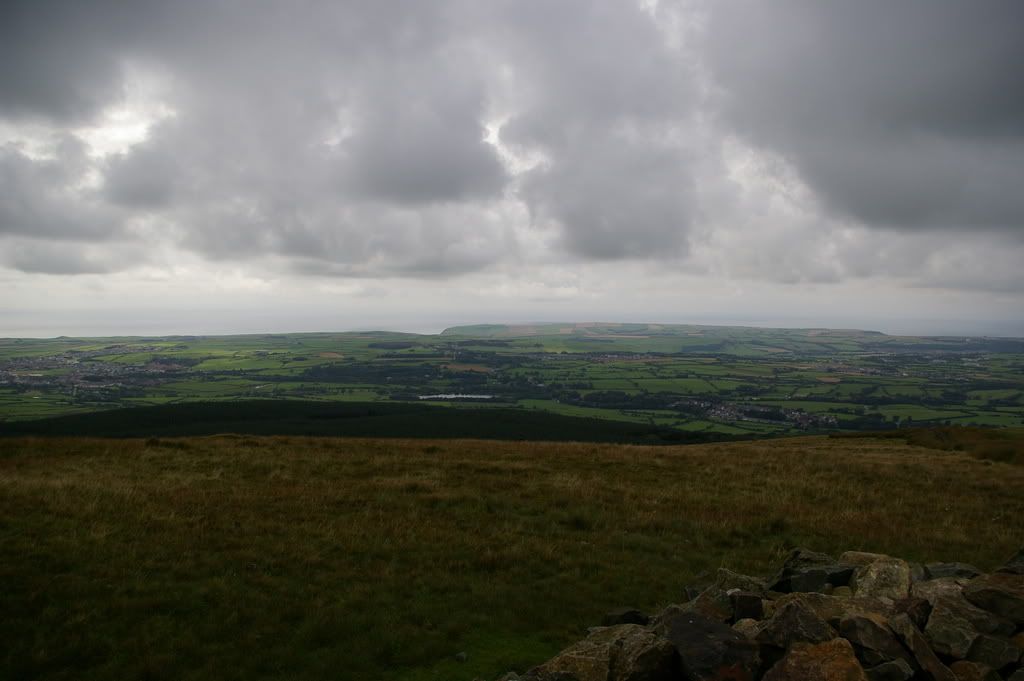 It also provided our first KMC (Kendal Mint Cake, the second most important part of our kit after our boots) moment.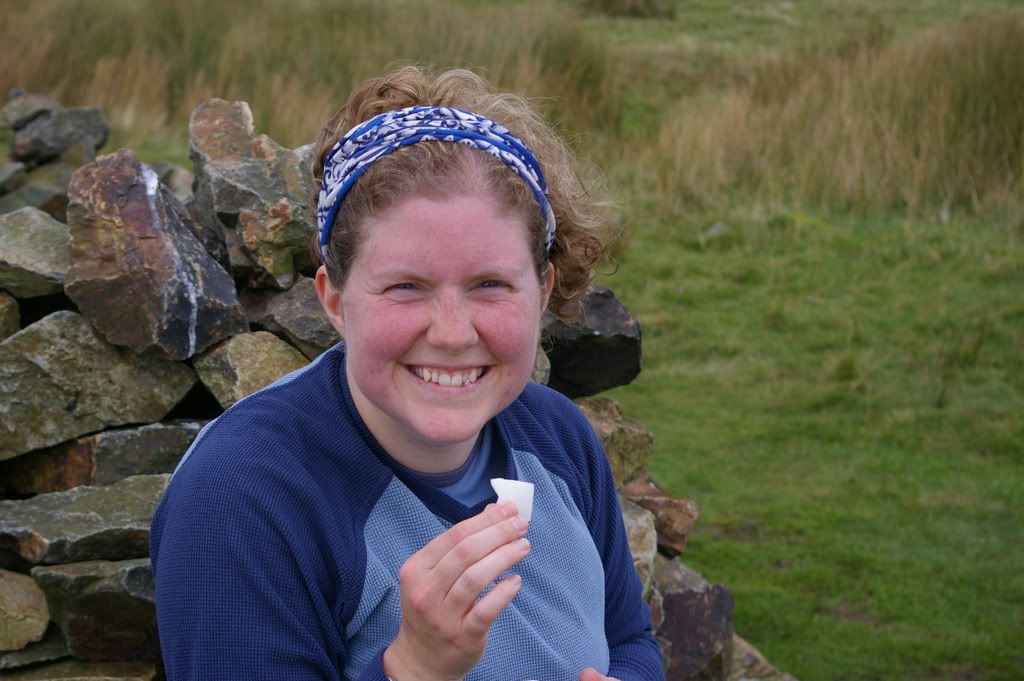 After descending from Dent via the forestry tracks, we came to a delightful valley called Nannycatch, a small but well-formed microcosm of the valleys of Lakeland. Splashing through Nannycatch Beck was a lot of fun, and knowing we were near the end of the first day, wet footed, but happy. Nannycatch would be a great place to visit again with my camera and more time: as it was I managed to grab a few shots, and Elspeth managed to get some of me.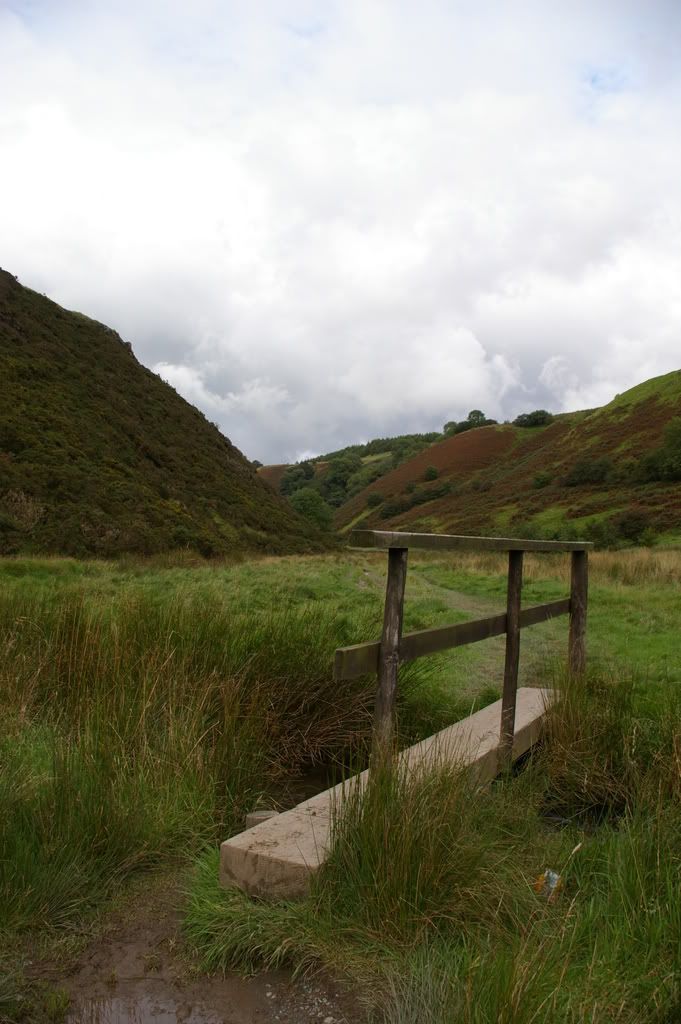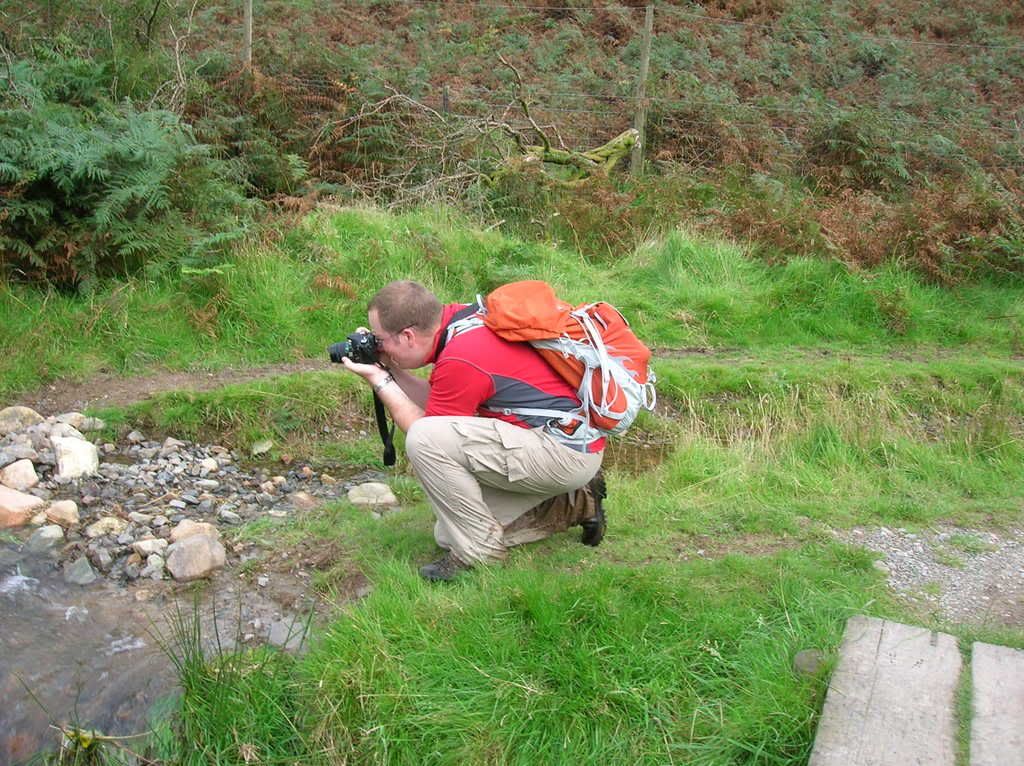 All that remained was to walk down the road to our first stop at Brackenwray farm, just before Ennerdale Bridge. Leaving the road following little signs through and orchard, we were greeted first by a wide variety of poultry expecting feeding time, and then by Val who immediately entered our good books by offering to wash our wet muddy trousers. Things we have learned #1: always, always wear gaiters.
Brackenwray was a great place to stay: loads of space including a whole extra room all to ourselves to sit in during the evening, a lift to the pub and back again, and incredibly fresh eggs at breakfast. Thank you to both Val & Steve!
Slightly sore feet, but big smiles, and we were left with a view up Ennerdale of the walk ahead.
Ennerdale Bridge to Stonethwaite, 14½ miles, 9 hours
Day two provided our first opportunity to get started when we wanted to, setting the trend for relatively early starts, leaving at 8:20. As it turned out, it was a good job we left early as it was a long day and the weather deteriorated throughout the day. We had read in Cumbria Life the preceding day about the re-wilding of Ennerdale, a valley which had previously been scarred by extensive conifer plantations, and is now being returned to nature. This made for a more pleasant day than we were led to believe by Wainwright's rather scathing critique.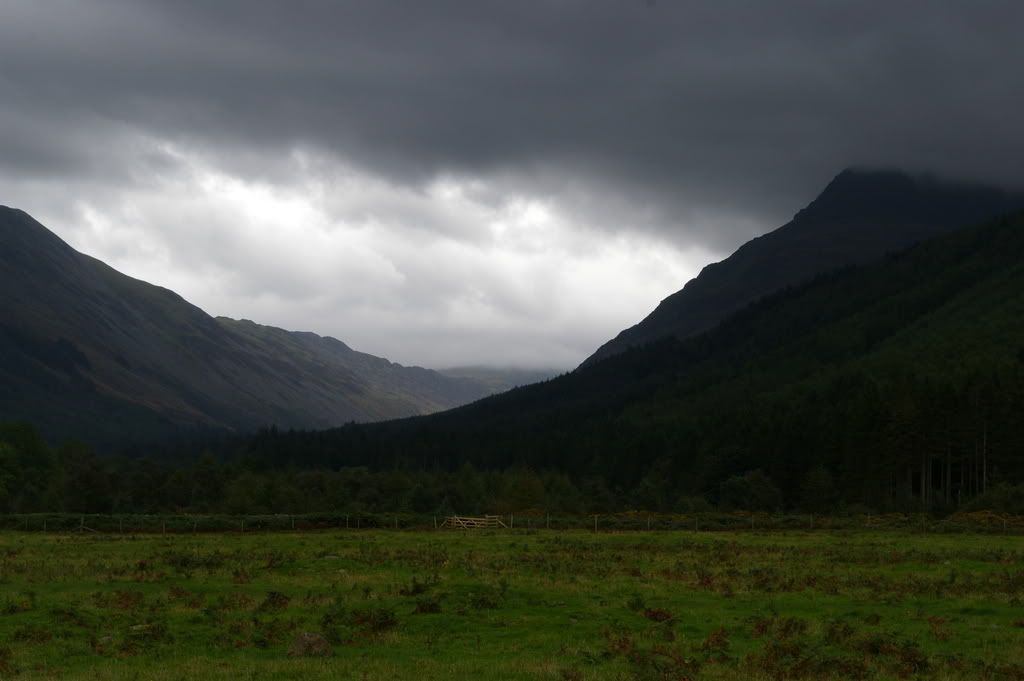 More Coast to Coasters were met in the first few miles: a quiet Irish couple who we saw stopping to put their raincoats on just as we agreed that the rain had reached that level, The Irish Raincoat People; The Backpackers, a couple who seemed to be rethinking their decision to walk the route with full packs and left us with the number of Packhorse in their pockets, and Standoffish Couple Number Two.
The wet weather made looking around at the hills rather dampening, but walking along with our heads down did make us (ok, Elspeth), notice some fun mushrooms for photographing. I think it was as I repositioned myself for the umpteenth time to work on the composition of this photo that Elspeth decided we ought to split our walks into two categories in the future: walks for walking, and walks for photographing. The latter being rather slower. I took my cue and restricted myself to a mere half dozen photos of the same thing from that point forward.
While not being much of a day for landscape photography, it was a good day for sitting inside places. We were set for a rest once we got to the end of Ennerdale Water, but the first suitable pausing point was taken already by Our First Australians, of whom more later. This turned out for the best, as we plodded on until we reached the youth hostel at Gillerthwaite, which had an inviting sign offering a roof and a cuppa. We went in and had a very pleasant half hour break with tea and a real chair to sit on.
We were quickly joined by a young Swiss couple who were on their fourth long distance path – veterans by our standards. "Are you going the whole way" became the standard question to identify whether the walkers you'd seen a few times following the same paths as you were also doing the Coast to Coast, and this having been ascertained, a common bond was established. The general consensus on day two was that day one was actually tougher than expected, but that we were all enjoying it.
After a squall had passed we went back out into the rain. Our day had started with storm warnings for the early afternoon, and the cloud was low over the peaks to our left, so we abandoned our plan to go via High Stile and Haystacks, and proceeded up the valley towards Black Sail youth hostel. The most remote youth hostel in the country, it is certainly a striking place. On this wet day, I was particularly tickled by its washing line: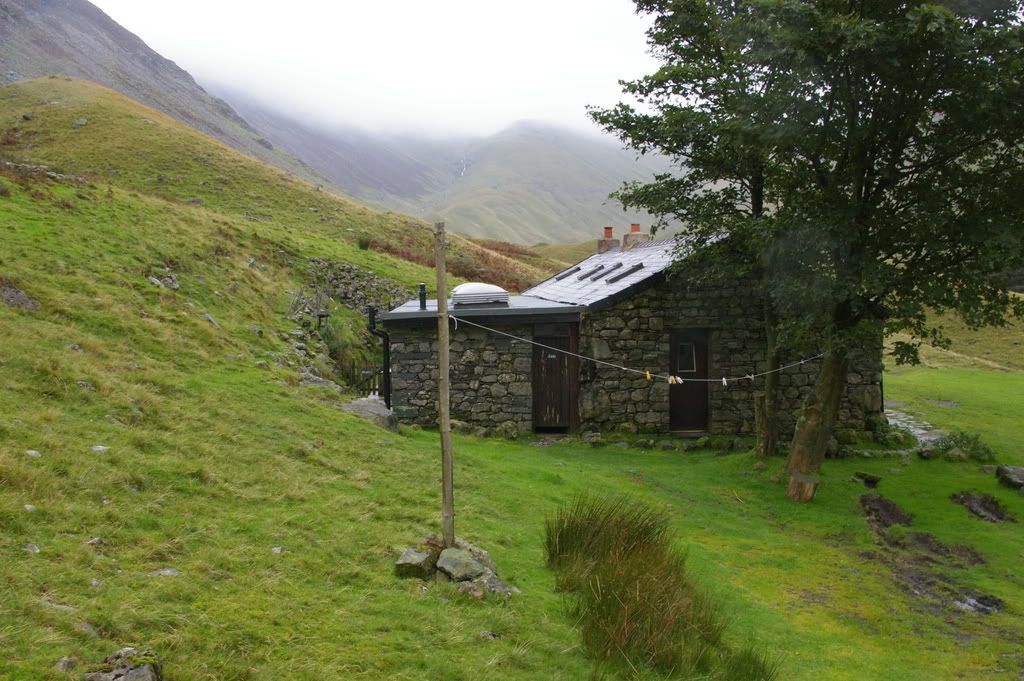 It was lunch time, but we were disappointed to see half a dozen walkers huddled outside with their sandwiches: not as welcoming as we'd hoped. We found solace in our lovely fresh egg sandwiches in our Brackenwray packed lunch. After five shivery minutes, another walker came up and actually tried the door, which opened onto a warm room full of much happier, warmer, walkers. Another long break followed.
Suitably mood-enhanced, we headed to the first steep climb of the holiday, up Loft Beck towards Honister Pass. This was a really pleasant climb, passing The Australian Foursome at the bottom. Just the kind of climbing I like: decently steep so that a couple of minutes leaves you gazing down into the valley floor. Once we got to the top we were well into the clouds at 600m, validating our decision to bypass the 800m+ of High Stile. The storm never really materialised, but the cloud was enough as it was.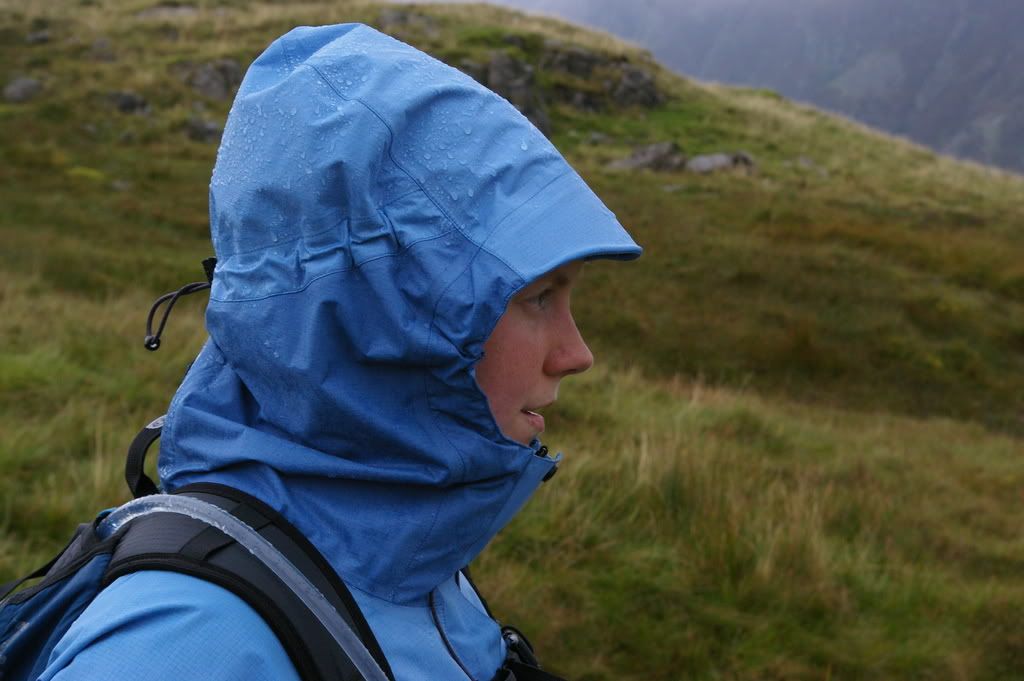 The route then drops down to the slate mine at Honister: the first part of the walk that we'd visited before. This third and final inside resting place was also well timed, as Elspeth was just beginning to have issues with her toe and boots – to become a niggling problem over the coming days. We left Honister to find the air clearer and drier, and we were now on our way downhill to Borrowdale and the end of the day, slightly weighed down by our little slate Coast to Coast coaster. Had to be done.
We stayed in the Langstrath Hotel in Stonethwaite: although not huge, it was certainly less welcoming than Brackenwray the previous night. Not having to put shoes on to go down to dinner was very pleasant though, and the food was very good. It was also here that I decided to try and not repeat a single pint through the holiday (succeeded, even with one or two pints each evening!). Retiring to the guest lounge with a whisky after dinner, we met two couples who were walking the Cumbria Way, which crosses the Coast to Coast in Borrowdale. The first of many walkers to recommend the West Highland Way to us, we spent a fun half hour talking about walking and hearing their ghost stories. I hope they enjoyed the rest of their walk and decide to give the Coast to Coast a go in the near future.
After two 14 mile days we were feeling a little weary and sleep came easily.
Stonethwaite to Grasmere, 9½ miles, 6¼ hours
Stage 3 of Wainwright's walk runs 18 miles from Stonethwaite to Patterdale, but he does recommend breaking the stage into two days at Grasmere. We were keen to do this to enjoy an extra day of walking in the Lake District, and planned on a lateish lunch in Grasmere.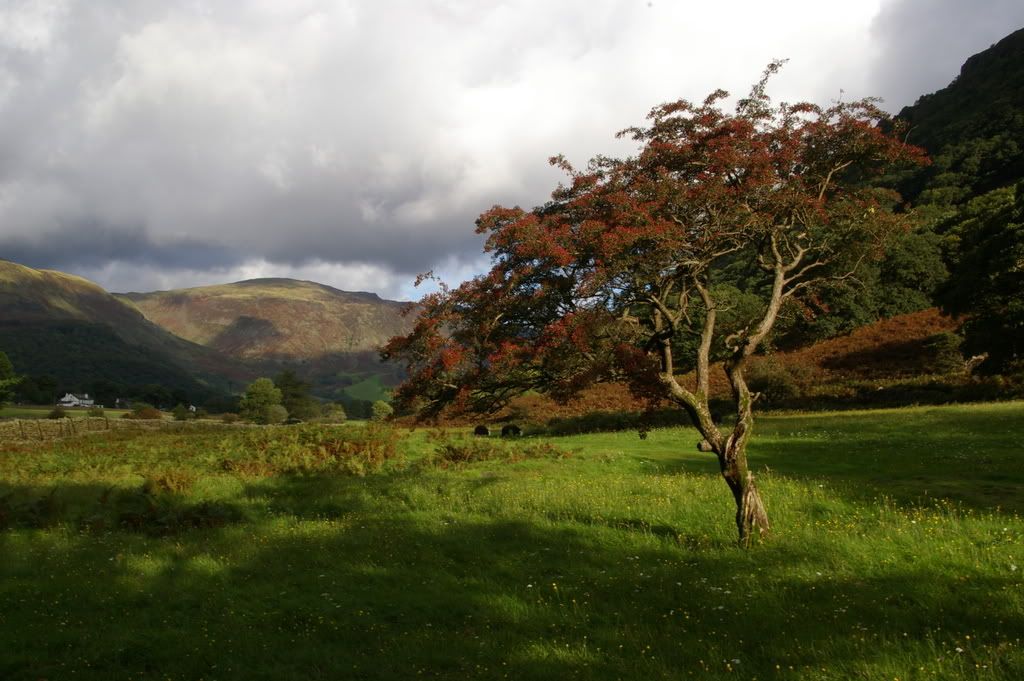 The day dawned bright and clear, delivering a beautiful morning walking up to Greenup Edge, with clear sunny views back into Borrowdale.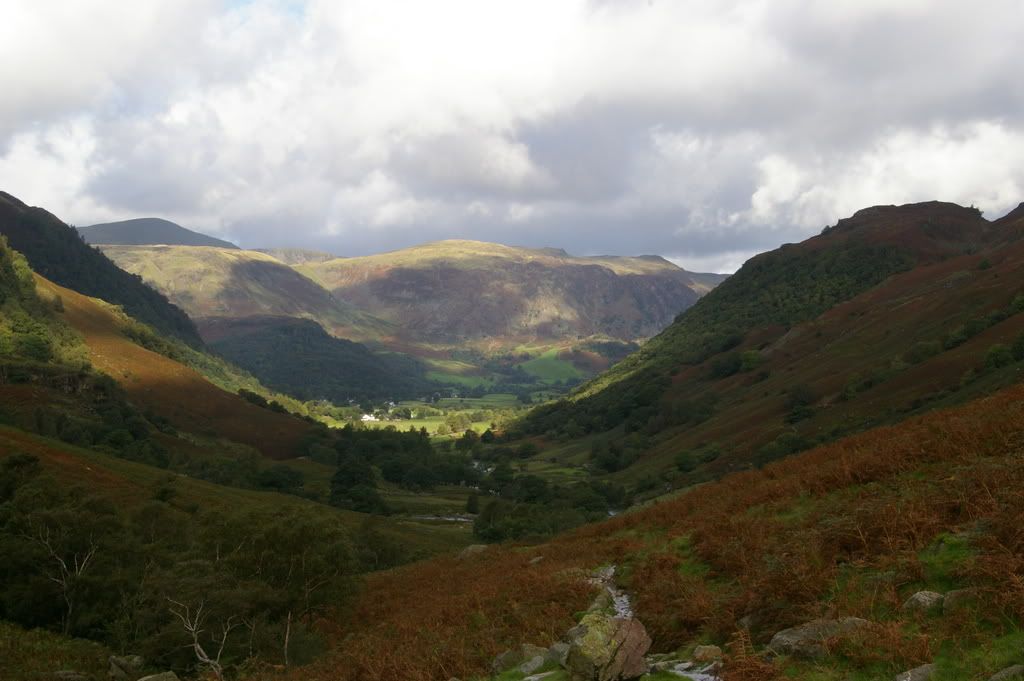 Elspeth had her first real attempt with Chris and Siân's borrowed walking poles, and found them very useful for charging up the hills. I was rather delayed with my camera for the first part of the day, meeting the local wildlife, including accidentally waking up a little sheep by banging a gate too loudly. I'm not sure I've ever noticed a sheep waking up before, but this one managed it in highly comedic fashion: looking as non-with it as I'm sure I do of a morning. I didn't take a photo of the sheep, but there was this funny horse.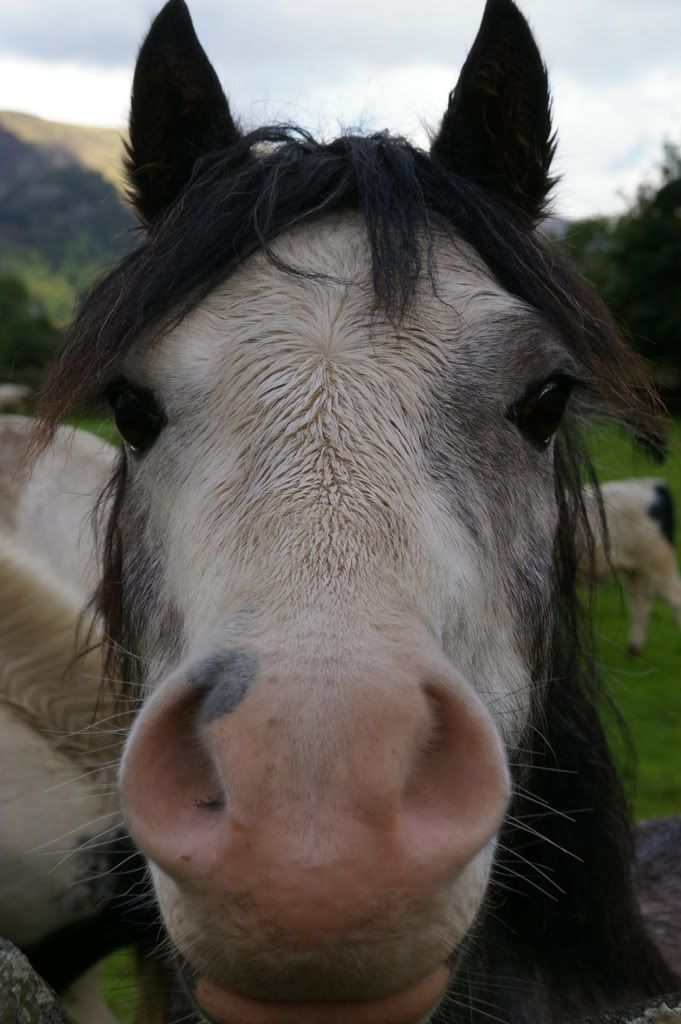 On the way up Greenup Gill, the many streams and waterfalls were sparkling bright in the sunlight, and the heavy rainfall was making for considerably more spectacular falls. On the final stretch up to the edge, I enjoyed a really fun scramble up a waterfall: a swift way to the top which left me with a nice rest while waiting for Elspeth to join me. Elspeth often feels guilty that she moves more slowly up hills than her and she's thus slowing me down, but I am actually very pleased as it means that I get longer rests than she does!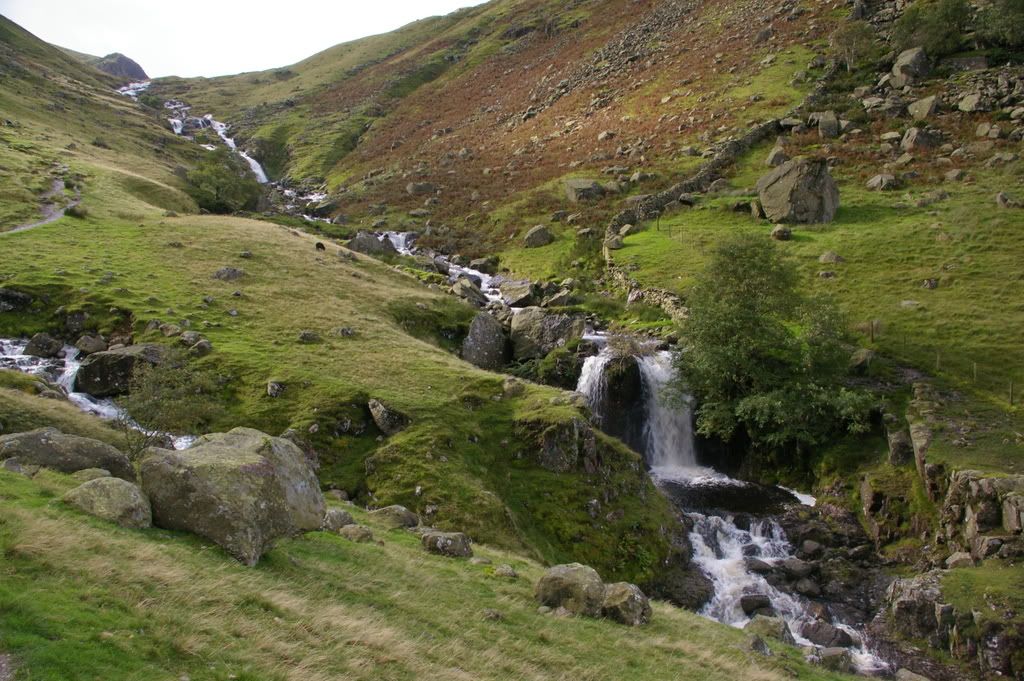 At the top we met a solitary American, later to become known as Digger, who kindly took our picture from the top.
The cloud to the sparkling waterfalls' silver lining was how wet it was on the top. Probably the wettest underfoot that I've ever walked and our boots' waterproofing gave up after a couple of hours. They weren't dry again for days. We met up again with The Australian Foursome and Our First Australians, both sets of whom were finding the going difficult. We realised that experience of walking in England was something we took rather for granted: we knew that the Lakes would be wet and that the hills would be steep, but others, especially from overseas, didn't have this advantage. This experience stood us in good stead particularly for route finding, and we were able to help guide the various Australians to the point where they chose to follow the valley down to Grasmere while we took the high route for a ridge walk over Calf Crag and Helm Crag, to the left in this photo:
This stretch of the walk was probably Elspeth's nadir: the walking was not the lovely ridge walk we were expecting, being very bumpy; our feet were soaked, Elspeth was talking about buying new boots once we got to Grasmere because her toe was rubbing so much; and the 'easy' walk was taking quite a long time.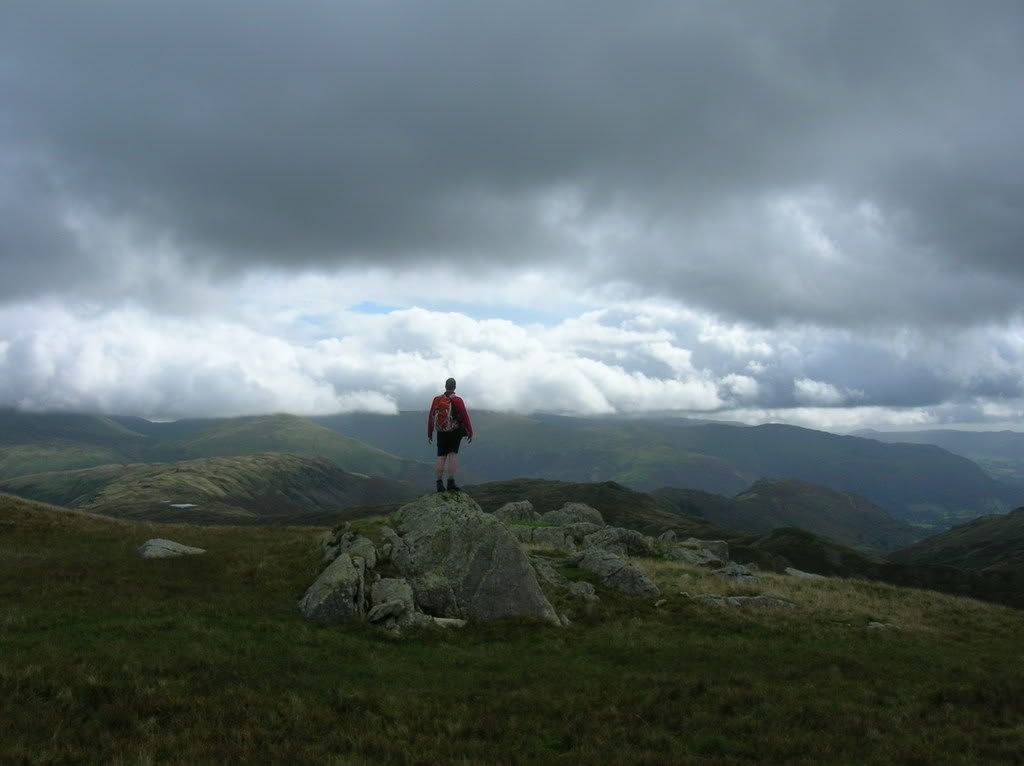 This did give me some time to admire the views, and they were fantastic. Looking backwards gave views up two or three valleys, and the scale of it was absolutely monumental. There's no way that something like that could be captured by camera, but I've done what I could to store them in my memories, and it's a scene that I resort to when I'm feeling hemmed in at work which brings a smile to my face.
KMC got us through it, and the promise of a tea room in Grasmere. We got in to Grasmere at about 3:00 and lunch was required. I had a sandwich with very memorable garlic pickle and everything was alright again. We stocked up with pasties, spare bootlaces, and gingerbread and headed out of the village to our B&B, to be welcomed with tea and cake. We also bought a highlighter to mark our route on the OS maps: we're not usually the type to deface our maps but it'll be fun in 20 year's time to find ourselves walking part of the walk again.
I finished the day feeling fit and in high spirits. Another short day ahead, with the expectation of a proper summit in Helvellyn or St Sunday Crag.
Grasmere to Patterdale, 8½ miles, 4½ hours
Our fourth day took us North East out of Grasmere, crossing over the mountains and into Patterdale at the head of Ullswater. We spent a week camping up here last year and were looking forward to revisiting a familiar spot. Prior to the holiday we'd also been intending to climb Helvellyn on the way today. After a couple of punishing days in the Lakes however we decided to leave this challenge for another time when we could go up Striding Edge the right way, so we downsized slightly and aimed for St Sunday Crag instead.
The day started with walking out of Grasmere back to the pub where we had experienced 'curry night' the previous evening: Elspeth's vegetable curry had featured roast potatoes, which was a first. Probably not one to try to recreate in your own kitchens.
We bumped into Dave Digger on the way up and compared notes on our guidebooks' description of the two alternative routes at this juncture, on Great Tongue.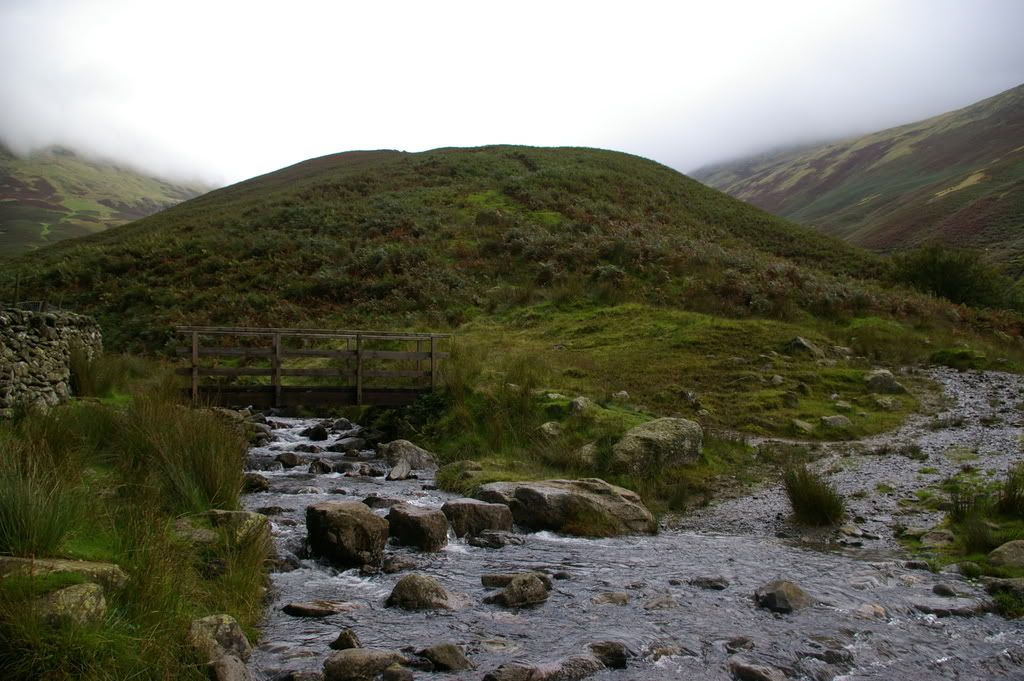 One of the valuable facets of meeting other people doing the same walk as you is the fact that you are quite likely to have different guide books, and a combination of more than one usually gives the best result in tricky circumstances. We were walking with Wainwright's guide (1994 revised version) and a combination of the strip maps for general routefinding and the OS maps and a compass as more detailed insurance policies. We found these a perfectly good set, although we tended to be met with incredulity that we'd managed without a more modern guide. However, we are used to this type of terrain, and once we know where we're going we could have managed with just the OS maps. But then you'd have missed out on AW's fantastic descriptive writing, and that would be a shame. In case anyone really wanted a more up to date book, we'd recommend the Stedman which is very detailed and we enjoyed looking in of an evening as almost all B&B's we stayed in had a copy.
We chose the path on the left, with an initial steep climb. Coincidentally, this stretch also seemed to involve taking lots of photos of not very much every couple of dozen metres. I can't think what I was trying to photograph, so I can only assume that I was gallantly stopping to allow Elspeth to rest if she wanted to. I'm terribly gallant when it comes to regular stops on steep paths, me.
It wasn't until we got to Grisedale Tarn that the weather on the tops really became apparent. It was a very windy day up there. We met a pair of lads who had been wild camping up by the tarn over night and were looking mightily windswept. Yes, it had been that windy all night, as evidenced by a sadly snapped tent pole. I still wanted to go to the top, but Elspeth, who experiences a considerably lower gravitational force with the ground than I do, decided it wasn't a good idea. I was rather disappointed to be missing out on another summit, but as we descended various phrases popped into my head – the most salient being that pride comes before a fall, and as the fall in this case would have been several hundred metres, I had to concede that Elspeth was right.
We took an elevenses break just down the way from the tarn, and tucked into Ann & Miles' wedding cake: an unusual hill food but rather a good one. If you care to look too closely, it appears that I forgot to tell Elspeth in this photo that we were going to pretend to scoff the cake, so she went for a standard grin. Ah well, it's not like anybody out there doesn't know where I stand on the virtues of cake.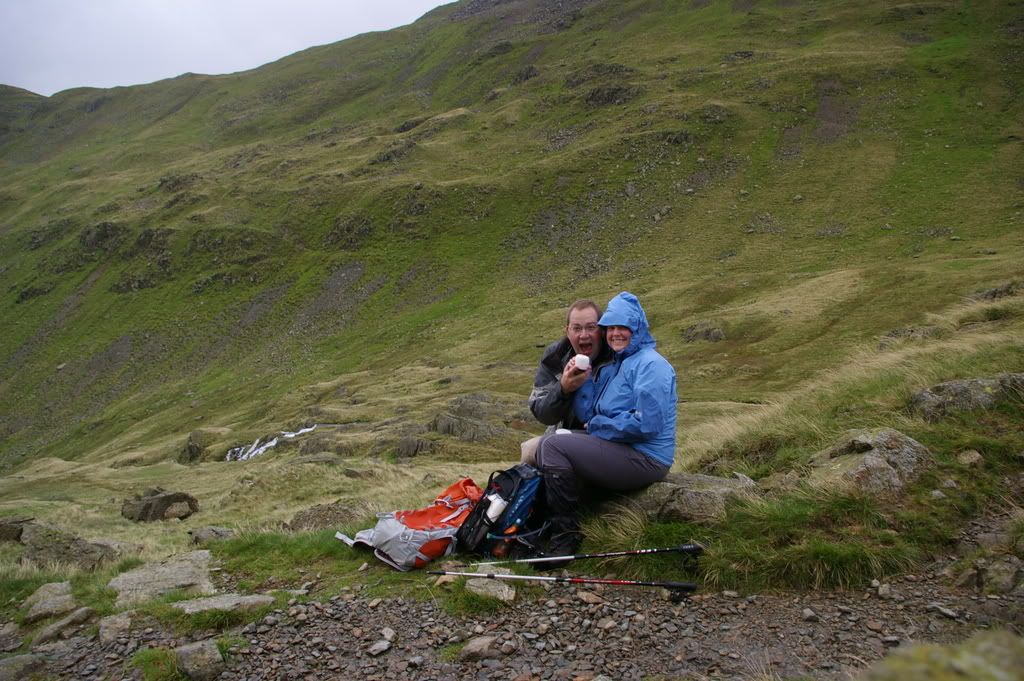 The walk down the valley was entirely uneventful: nice but without anything very interesting happening. We did meet a few walkers out of Patterdale and noticed how much more fit and vibrant we seemed than them, which made a nice change. We did stop for a few more waterfall pictures though.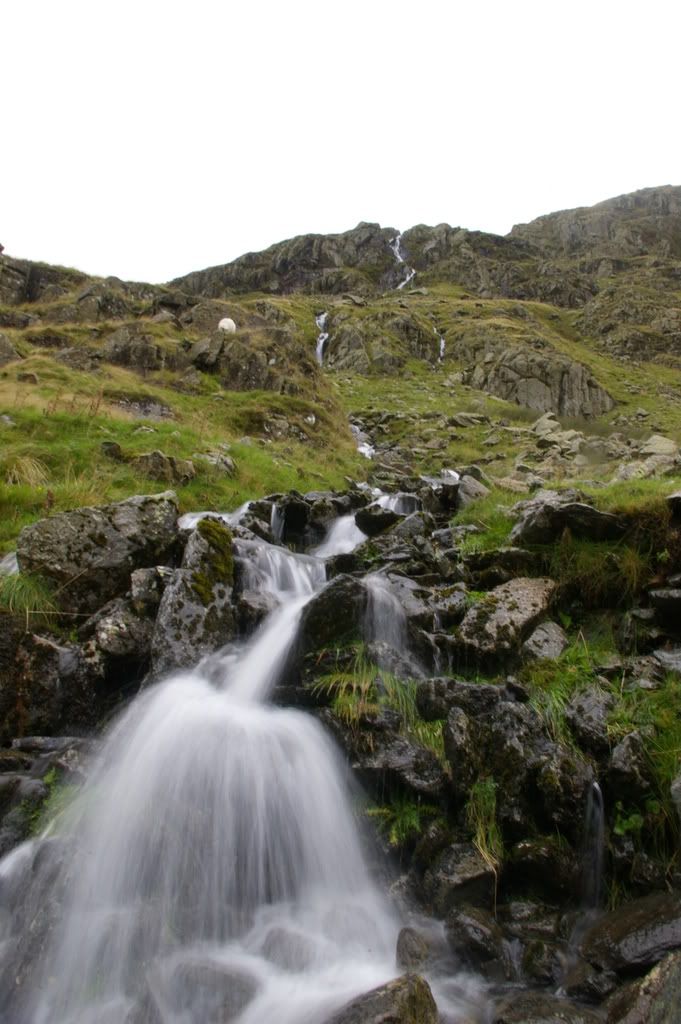 We got to Patterdale by lunch time, and were left at a bit of a loose end, so we thought we'd extend our walk by wandering down to the lake and along to the nice coffee shop at Glenridding, also replacing my gaiters which had lost their fasteners and obtained rips during the day's walk. My new ones are black rather than bright blue, which is a good thing.
Dinner was a who's who of Coast to Coasters at the White Lion, the only place to be in Patterdale. No, really, it is the only place to be. We mused back on the last two days: after the trip to Grasmere we were very glad that we'd split the 18 miles into two sections, but today's walk was really quite easily and quickly dealt with, so perhaps we could have strung the two days together. An easy day was welcomed, however, giving us some rest in a lovely B&B ahead of a long 16 mile day over the highest point of the walk which many documenters name as the toughest stage of the walk. Let's see.
Patterdale to Shap, 16 miles, 8¾ hours
Day five already. Time does funny things when you're walking. We're all familiar with time flying when you're having fun, but when you're walking all day, every day, the time stretches out in a way I'm not particularly comfortable with. Events of earlier in the day seem to belong to a different time and place as if a huge amount has happened in the mean time. In a way it bears similarities with periods when you're working hard for long hours, where the amount of information you are processing is so large that the time over which you've been working seems longer even than it is. But this is at the other end of the scale: you have long, long chunks of time with nothing to do except walk. And they stretch backwards to eternity. And it's heaven.
Day five already, and in case you find time distorting as you struggle with my narrative, let's focus. This is the day we say goodbye to the Lakes. We climb out of Patterdale towards High Street, cross over Kidsty Pike, alongside Haweswater and then back out to farmland with a resolutely Eastward bearing to Shap. We'd also pass along the only section of the walk I've done before (if you exclude the pasty counter of Gregg's in Richmond), half a mile around The Knott and up to the Straits of Riggindale.
Expecting a tough day, we set off into early morning mist hanging in the valley. Climbing straight away we were above it very quickly and were treated to beautifully atmospheric views as the sun started to peep out above the hill (was the sun rising above the horizon or were we climbing up and lowering the horizon? I like to think we were giving old Sol a run for his money).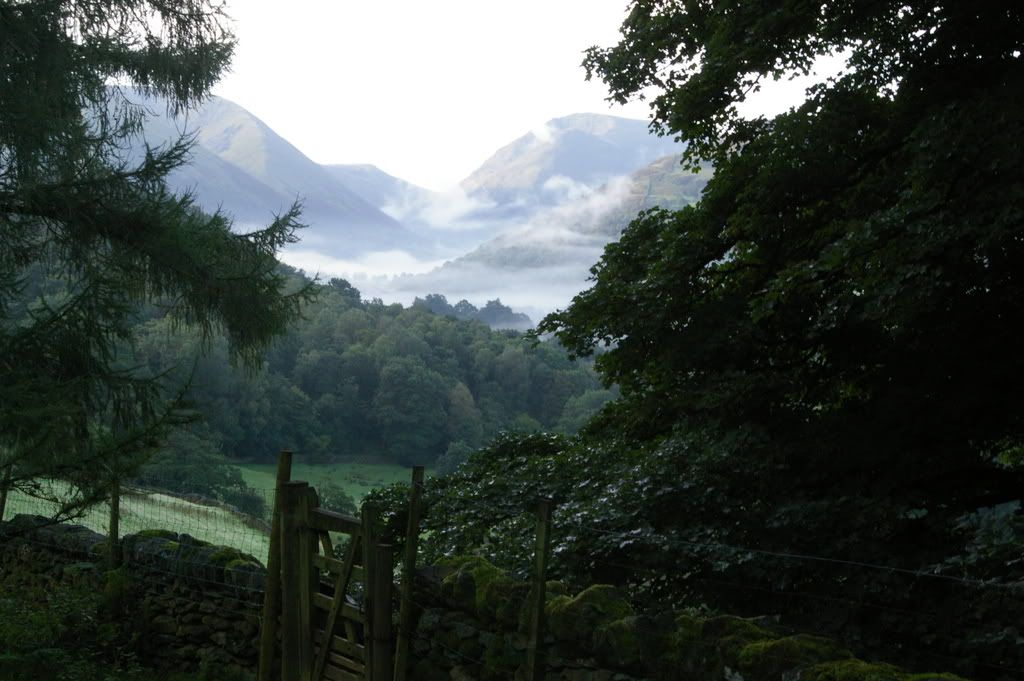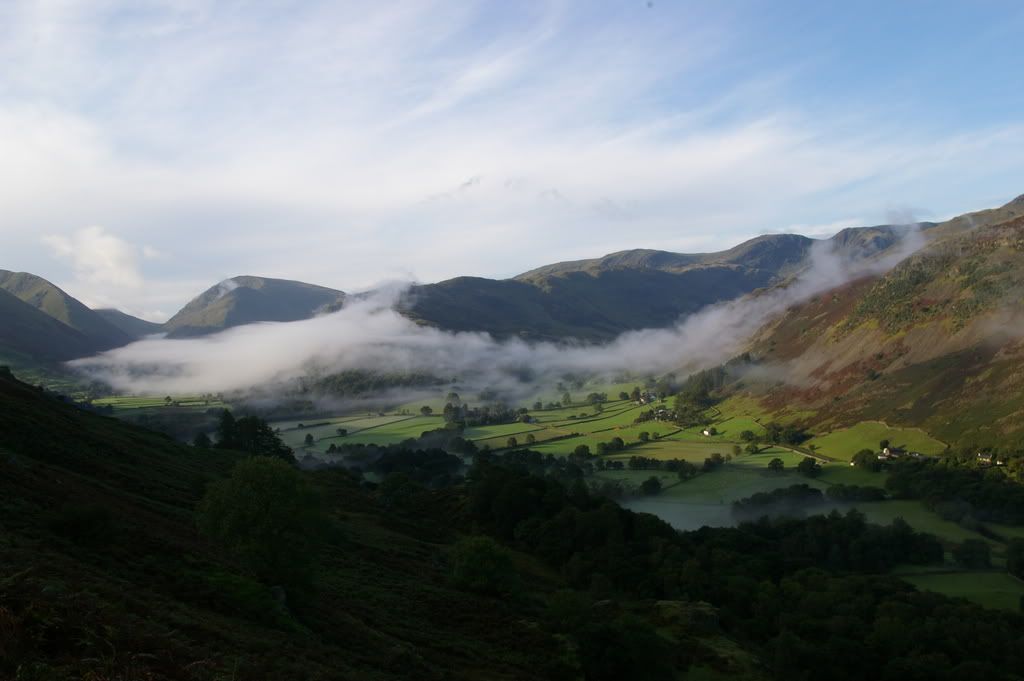 We both really enjoyed the climb out of Patterdale. It was never steep, but it was incessant, and we talked about how much more hill-fit we felt compared with the start of the walk, particularly compared to Dent on day one. I suspect it was a combination of developing fitness and stamina, and finding our optimal pace. The former will disappear in to the four small walls of our offices but the latter I hope to be longer lasting.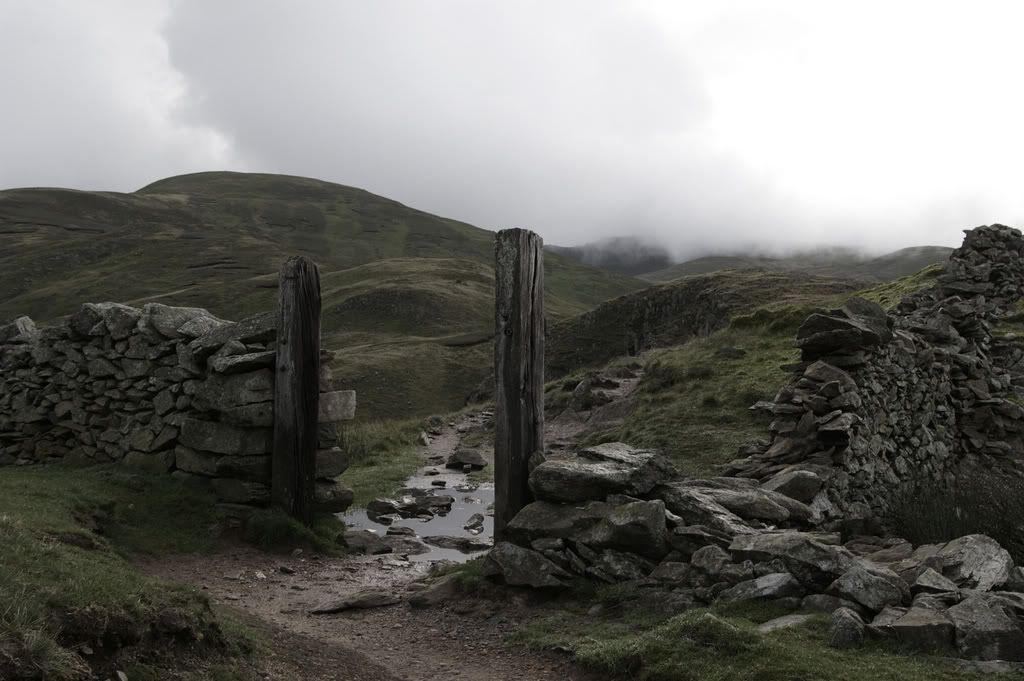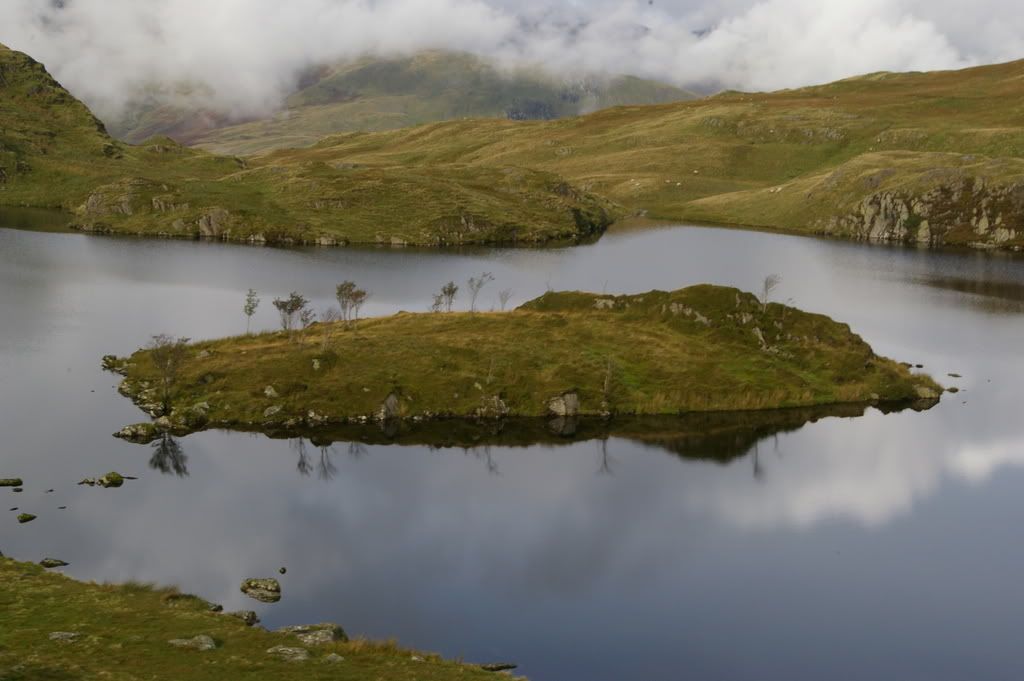 We reached the tops and Angle Tarn in double quick time and before the weather started heading downhill. As we negotiated the 'messy' section across towards the High Street massif, we saw a farmer working his dogs to bring the sheep in. A great sight to see the three dogs working together to herd the sheep across such hostile moorland. Shortly afterwards we came to the path up to Kidsty Pike and became aware of a further half dozen farmers all around the ridges around the valley, each working their dogs to bring a couple of hundred sheep together in the foot of the valley. Now this really was fascinating to watch. Later we would eat our lunch down by the lake and watch them manoeuvre the flock as a single entity along the valley side. A treat.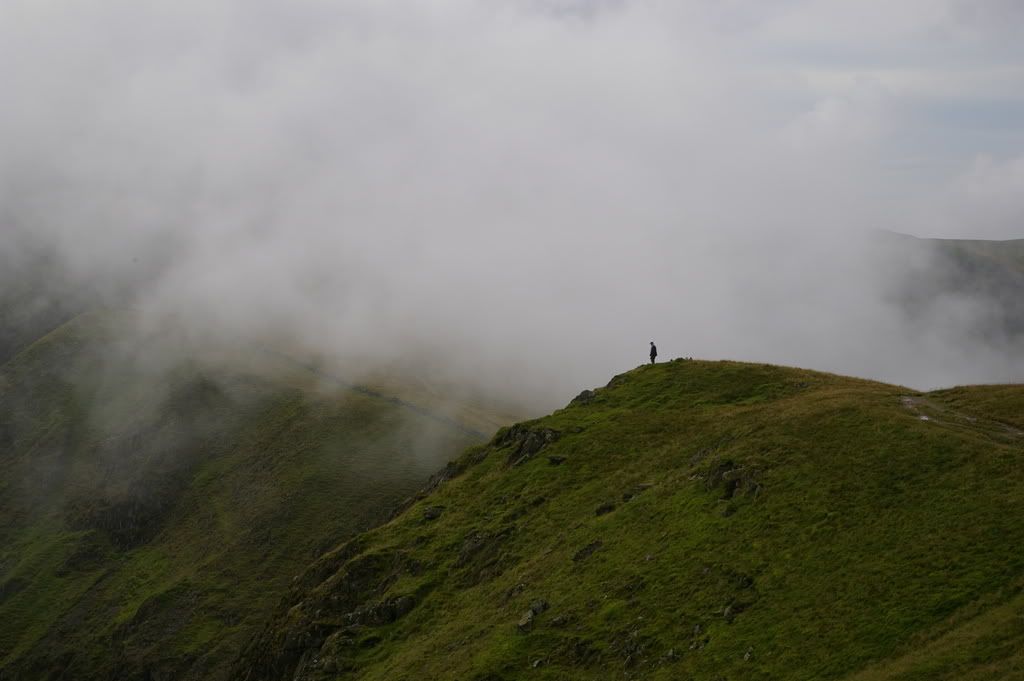 As the shot above of the farmer above shows, the cloud started to come in at this point, and our grand summit of Kidsty was somewhat obscured by a cap of mist. We still had a customary celebration by mint cake and made our way down to Haweswater. Wainwright points out that just because you're at the highest point doesn't mean it is downhill all the way, and I have to confess I was glad of this after negotiating a steep and tricky descent.
Now I gloss over the 4 miles clinging to the edge of the hills above Haweswater before dropping down to the water and back up again, because I didn't enjoy it much. If Elspeth's low point was the ridge above Grasmere, Haweswater was mine. Elspeth pushed on and it was all I could do to imagine a rope between us that was pulling me along too. Ah well, you can't have the hills without the valleys.
That was a bit gloomy. Have a waterfall:
Emerging beyond the dam at the end of the reservoir my spirits lifted considerably. We stopped to change into dry socks (learning number 2: take dry socks. Do it.) and consume a slab of caramel shortbread and then we were away, enjoying small but intense sections of woods and riverside walking.
A paragraph is devoted now to the ugliest sheep we have ever seen. Honestly, you had to be there, so this is an indulgence for me and Elspeth. Hey Elspeth, remember that ugly sheep? I loved the bit where it ran at us to get past and I turned round and shouted boo at it. Fantastic ugly sheep story, one of the best. Get us to tell you it some day.
Arriving at Shap was welcome, as it had been a long day. We stopped off at the co-op to stock up and ambled down the road towards out B&B. Which was just past the pub. Unfortunately there are a great many pubs in Shap, and the B&B was past the last one, a mile down the road. Ho hum, that's a mile less for tomorrow. Margaret at Brookfields was very welcoming, the warm homemade scones and almond tarts, and the fluffy bathrobes in the bedroom surpassed only by a wave of the hand at the view from the window back to the distinctive profile of Kidsty Pike, to show how far we'd come that day. That really made it feel like an achievement.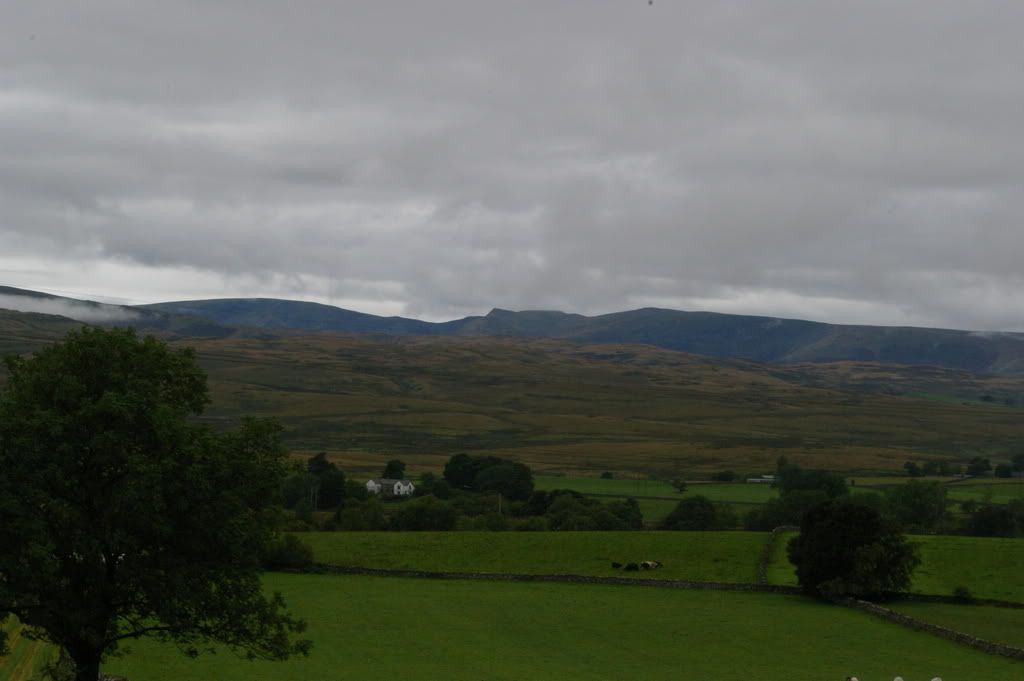 Before we leave the Lakes, a final commendation to the Greyhound Hotel in Shap. That night I feasted on a chicken breast, stuffed with Cumberland sausage and wrapped in bacon, all served on a gooey cheesy potato cake. And the best thing? I could eat it with no guilt, knowing that I was fuelling for the days ahead. Greyhound Hotel, I salute you.
Next >> The Dales