Day 1 – Home to Addingham
We really were just walking out of our back door to start the walk. We moved to Saltaire at Easter this year and have spent a fair bit of time up Shipley Glen, walking past the Dales Way signs that signal part of the Bradford Link of the walk. It officially starts down at the station in Shipley, although it has recently been extended further into Bradford. Our first day would take us over our local moor into Ilkley, the start of the walk proper. We chose to go a few miles further, to Addingham, so that it felt we had a head start on the walk.
We used Sherpa to book our accommodation and carry our luggage. Pretty important to have the baggage transfer as it included a travel cot and a high chair, albeit compact versions. As Sherpa haven't yet started the offer of picking up your bags from home we took ours over to The Crown in Addingham the previous day. We were there and back inside 45 minutes: suffice to say the walk took a little longer.
Marisca travels in a Little Life Traveller which we picked up for cheap at a nearly new sale. Accompanied by a rain cover, a sun shade, a day's worth of nappies, snacks, milk keeping cool in a thermos toddler cup, extra layers, spare clothes, a bib, factor 50 sun block, a hat with newly sewn elastic to keep it on her head, and a rear view mirror. No baby sunglasses though, she was not having that. And that was just my load.
Elspeth had to carry all the stuff we normally carry between us, with the exception of my DLSR camera. Shoulder straps don't really work with a big baby carrier on your back, so I started off carrying it in my hand, intending to put it into Elspeth's rucksack once we ran out of things to photograph. That never happened: I carried it in my hand for the entire walk, sometimes shrouded in an Exped dry bag. They say that when you're a parent the normal discomforts of life fade into the background as whole new discomforts come to the fore. That certainly seems true here – how I managed to avoid being annoyed by the camera on dull days is a mystery.
Part of it may be that I devised a project. Two actually. Not satisfied with trying to take a few photos to remind us of the walk, and hopefully one or two that I wouldn't mind putting on the wall at home (I'm not sure that I managed the latter, if you discount pictures of Marisca), I took inspiration from Daniel Shiel and thought I'd photograph every stile we crossed to make a little montage. Oh, dear naive Tim. There are a lot of stiles on the Dales Way. A really very lot. It's a riverside walk. Through fields. With walls. Lots of walls. I never did give up, although for a time I downgraded to most stiles rather than all, and dropped any gates that were just big boring field gates. I'll add the resulting glorious picture at such point as I manage to work my way through the c.400 RAW files on my computer. You'll have to read to the end to find out what the second project was.
So, it must be time to go now? Marisca's ready...
The door's locked, we had officially started. Time for an obligatory family photo before we moved off. I think we both compare pretty favourably with our 3-years-younger selves, even if I do look half the man I was at the start of the Coast to Coast.
And the first gate shot of the walk. That's our back gate. Don't worry though, I'm not going to post all 400 of them.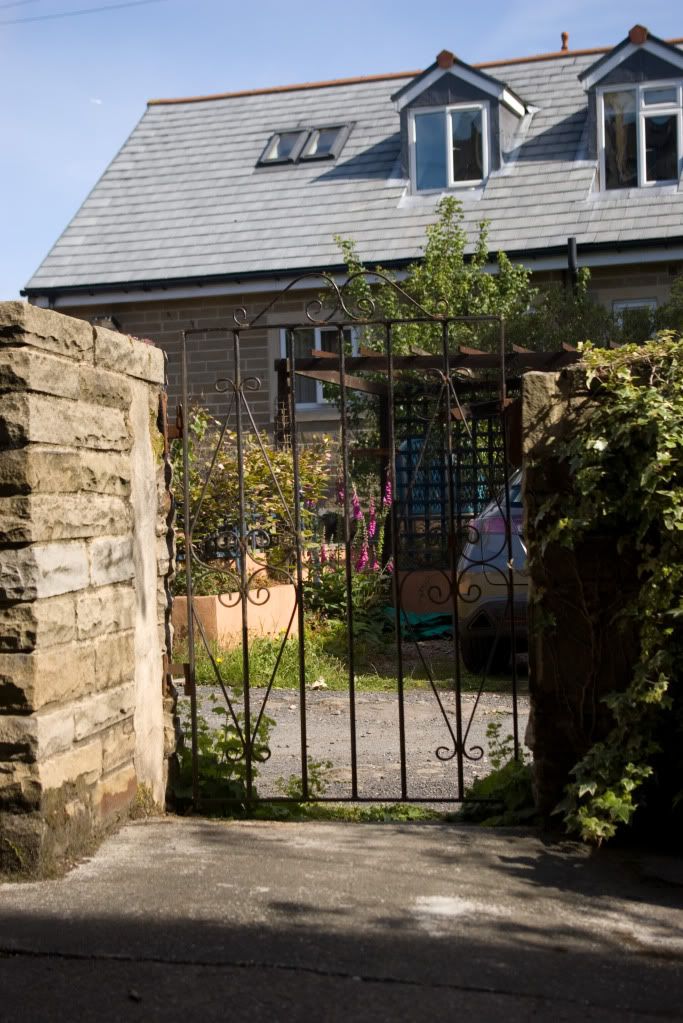 We struck off down the hill to the canal, and across to walk up Shipley Glen. This is a route we know well now, being our favourite Sunday walk when we have visitors. Today though, we've a different plan. No pub lunch after the 20 minute walk, instead we're going all the way up the Glen and onto Ilkley Moor. We encountered our first – of many? – Dales Way walker, although strictly he was carrying a Dales High Way book so is definitively more hard core than us. We emerged from the woods into a beautiful sunny day and headed North. First stop with jelly snakes with views over the Aire valley. Our Aire valley.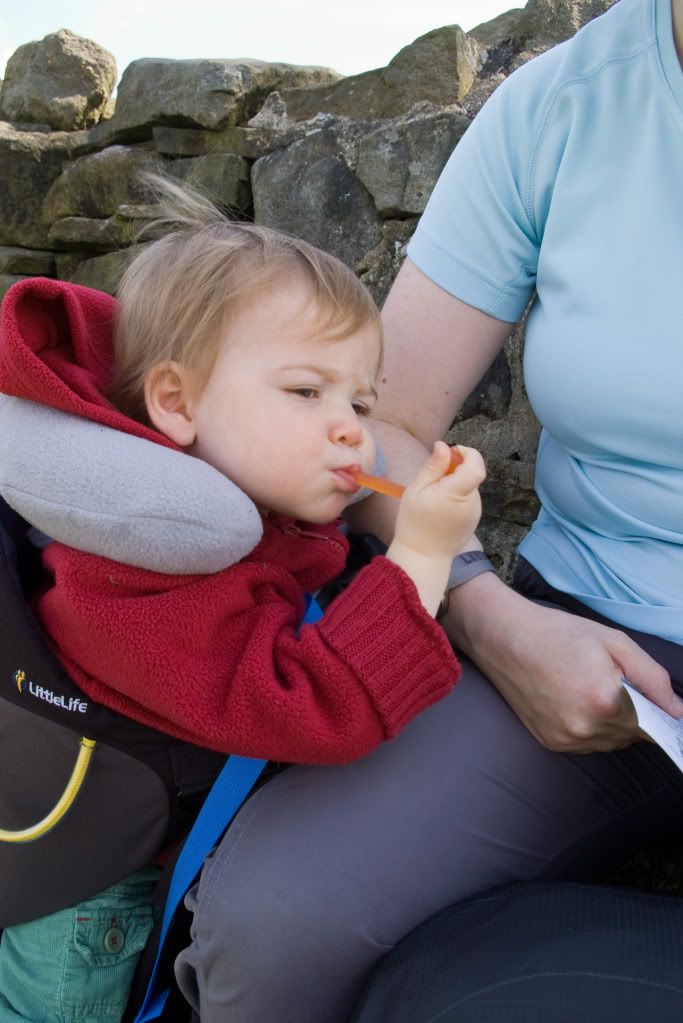 We'd never been up to this bit of the moor before. We've done the Baildon Moor part of Rombalds a couple of times, as our nearest trig point, but not the part towards Ilkley. It's really rather nice. The path is very well established and on a dry sunny day like today it's perfectly pleasant and a great start to the walk. Marisca's sun shade was already in use.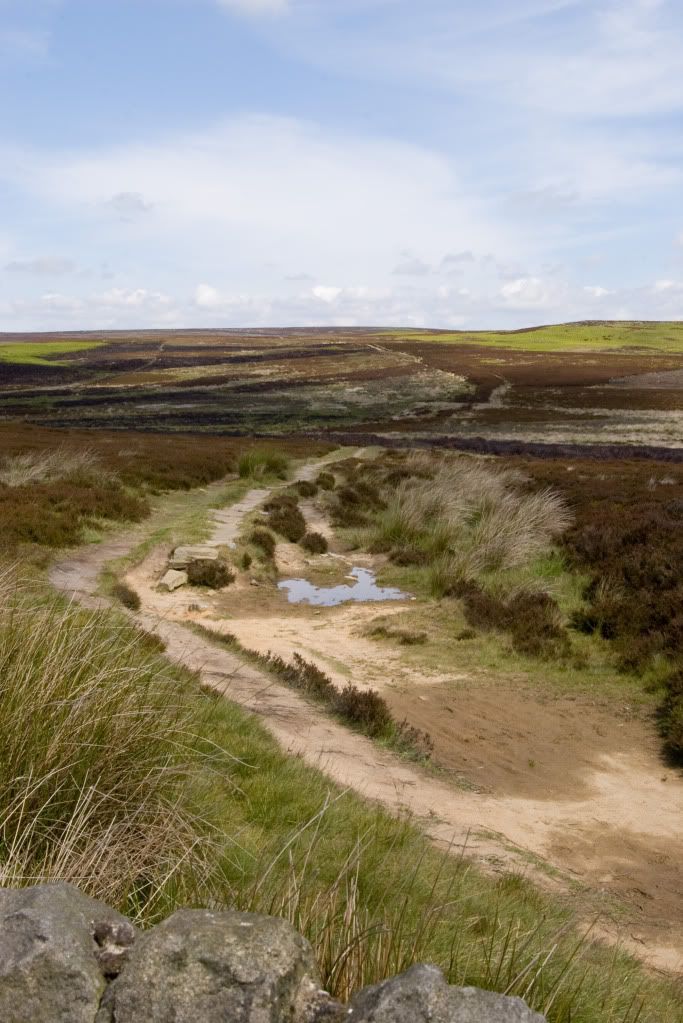 We stopped for lunch at the twelve apostles stone circle, with views out towards Leeds and down to Ilkley. Already becoming a common refrain was our references to good fortune in living so near to these hills, instead of the previous flat countryside of Bedfordshire. "We could do this any weekend. Walk over to Ilkley for afternoon tea and catch the train back home".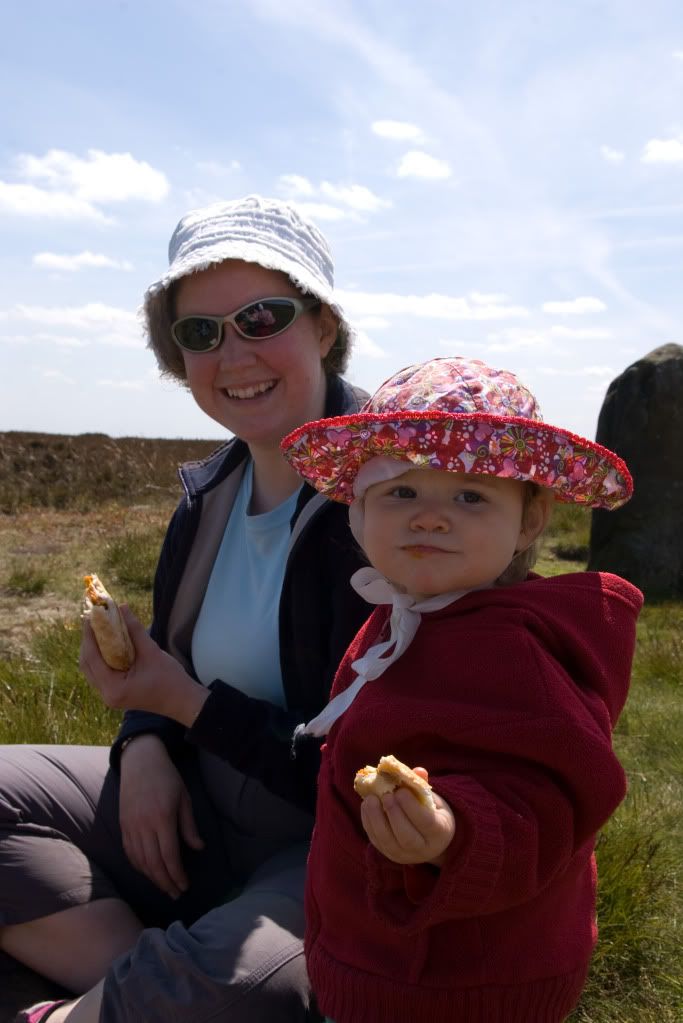 Marisca had just begun thinking about starting walking when we set off and was quite happy standing around. I couldn't resist the opportunity to take her out into the heather and let her figure out what it was all about.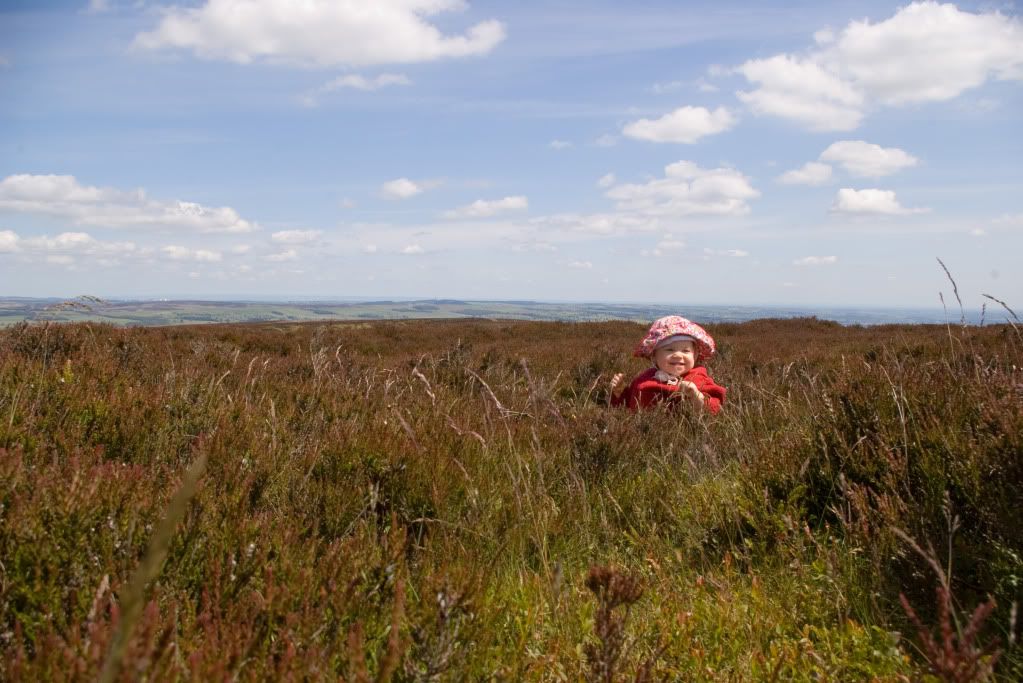 On our way again, the next part of the path clearly awaiting some erosion protection. That reminds me, the Friends of Ilkley Moor have monthly volunteer days. I must give that a go: my clodhopping feet must have caused enough erosion to the hills over the years.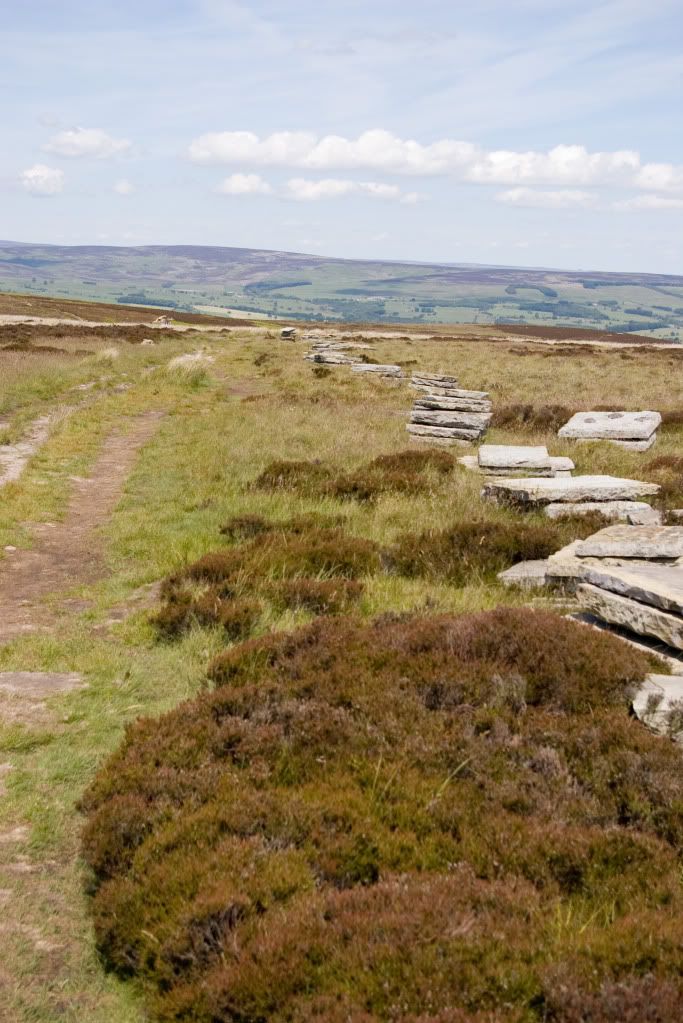 Past a picturesque cairn ...
...we dropped down past the picturesque Ilkley Crags...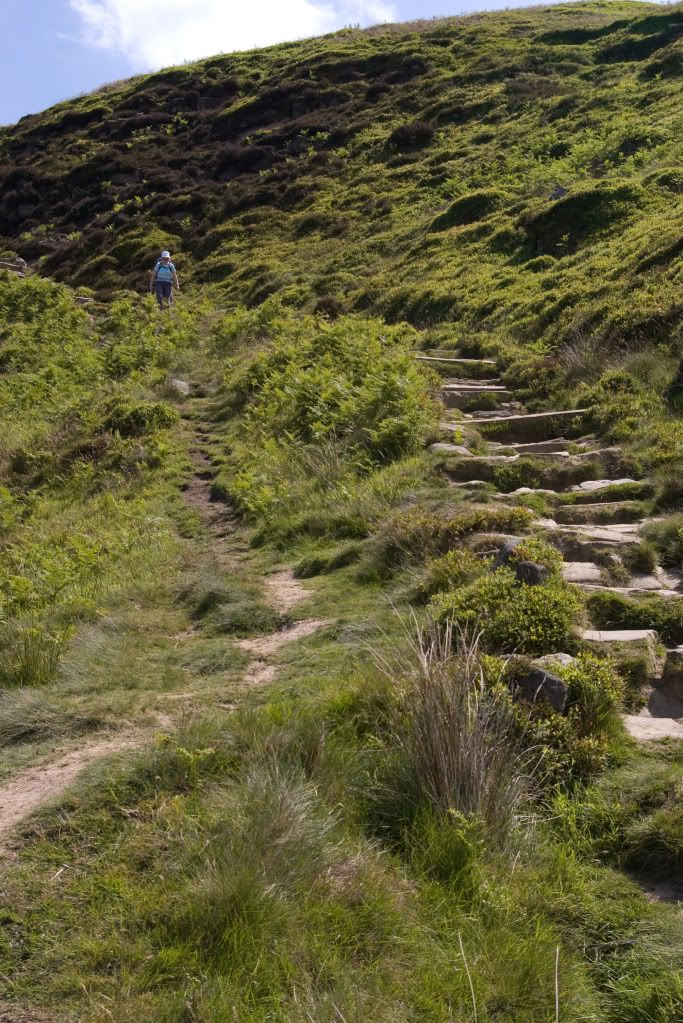 ...to the picturesque white wells above Ilkley, with sudden crowds enjoying their own views of Ilkley from the dozen benches scattered about the place.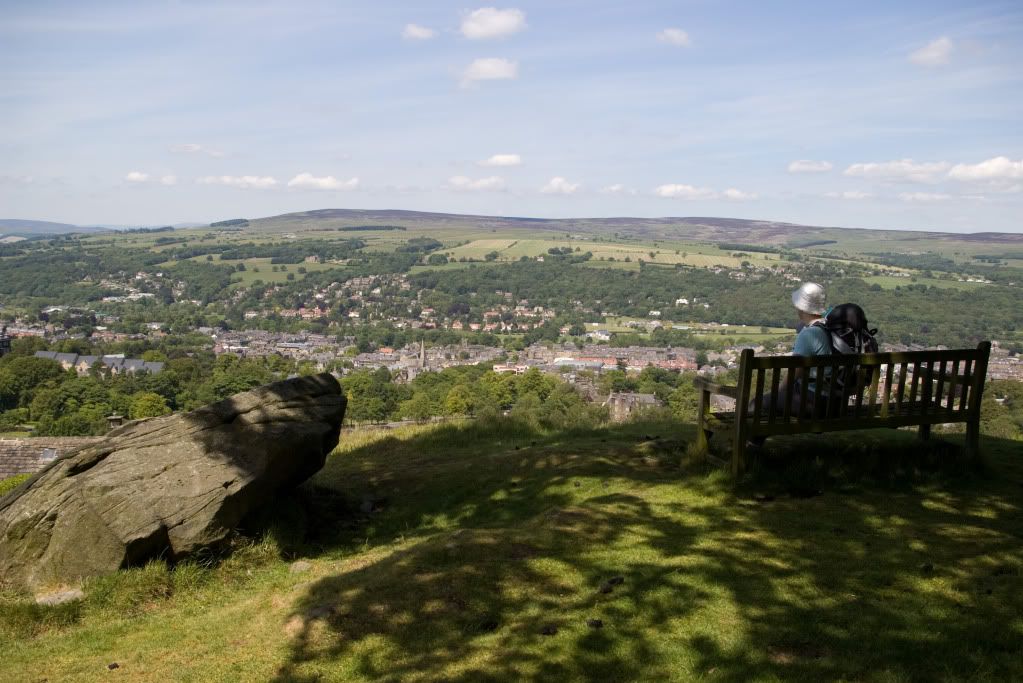 Ilkley is kind of like that. Nice, in a picturesque kind of way. As we made our way through town we did feel a little out of place. We should have been pottering, not striding. We should have been stopping for tea, not a cheap ice cream from the van. So, we cracked on, making for our first meeting with the Wharfe, which would be our constant companion for the next few days. The Dales Way was originally conceived as a walk up the Wharfe, and then extended at the far end towards Windermere. We rather like the river at Ilkley. It's broad and sweeping. It's a peaty brown. It's graceful. I'm sure it's got stories to tell.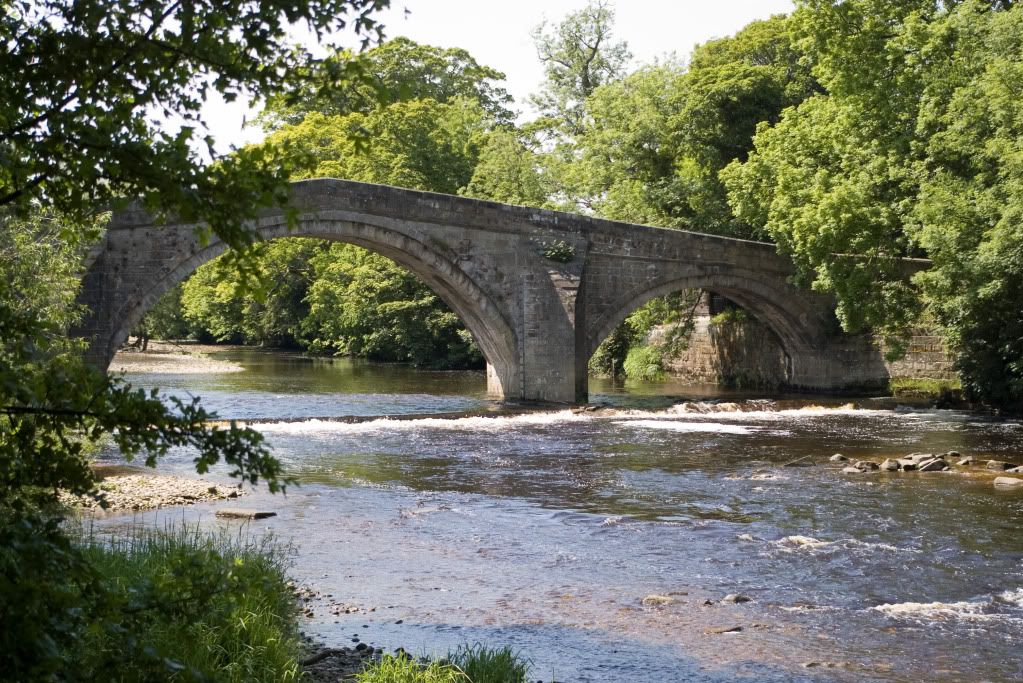 While in Ilkley we found the bench marking the official starting point of the walk. As we were already a little footsore from the 8 miles over the moor we didn't bother marking this spot, although we did rest a moment to allow an enormous group of schoolchildren to pass on their way to/from some kind of sports event. All of the girls cooed or giggled over the 1 year old on my back. None of the boys even noticed her. Boys have much more important things to talk about. Only 82 miles to go.
And that's the last photo of the day. But we still had three more miles to walk to get to Addingham. To be Wharfully honest, they weren't great. We were looking forward to riverside paths and acquainting ourselves with the river, but just got a hot sweaty slog up a valley, half of it on roads. I know we love being up on the tops and so the valley was never going to compete with being up on Ilkley Moor on such a beautiful day, but was this all we had to look forward to? Was a valley-based walk a mistake? It didn't seem like much fun anymore.
We stopped at the church in Addingham for a rest and a nose around. Parish churches on hot walks are, ahem, a Godsend. Lovely and cool inside, interesting things to look at for 10 minutes, and space for Marisca to get out of the rucksack and have an explore. The last 10 minutes over to the Crown Inn was reasonably straightforward and we were happy to arrive.
It was a good day of walking. My shoulders were really sore from the backpack and the extra weight, and we were both hot and tired, but it felt like a good start to the walk overall. Marisca relished somewhere new to explore after a day in the backpack and spent half an hour crawling all over the pub. The pub was a nice place to stop overnight. We arrived on the cook's day off so were restricted to pork pie & peas for tea, and beer was standard issue Deuchars and Tetleys, but we were able to snuggle into a corner in our socks with the maps and guidebooks looking back at the day just passed and ahead to the one to come.
Next >> Day Two