Day 2 – Addingham to Burnsall
Today we walked upstream. This is the Dales Way, and today we walk up the first of our dales, Wharfedale.
Breakfast was good. We were the only guests – the pub only has two rooms – and so we were very well looked after. There was plenty of yoghurt for Marisca, as well as weetabix, and lots of tea for us. And being the only people there meant we knew everything was cooked fresh.
We took our first diversion from the route today, not bothering to retrace our steps through Addingham to the river, instead taking the more direct route to the river and taking it from there. This is something we noticed as different from the coast to coast – we were quite strict on the route there, whereas here we would take whichever route seemed best at the time.
It was a good day for walking with a baby, and nice to have a day like this early on to give us confidence. There were just lots of places to stop, to get Risky out and about in her boots, and to change nappies. We found the old Quaker building at Farfield to be good for the latter (two nappy changes there...) although the stone floor wasn't very popular with Marisca. She was soon asleep anyway – a common pose and one that was always good for photos.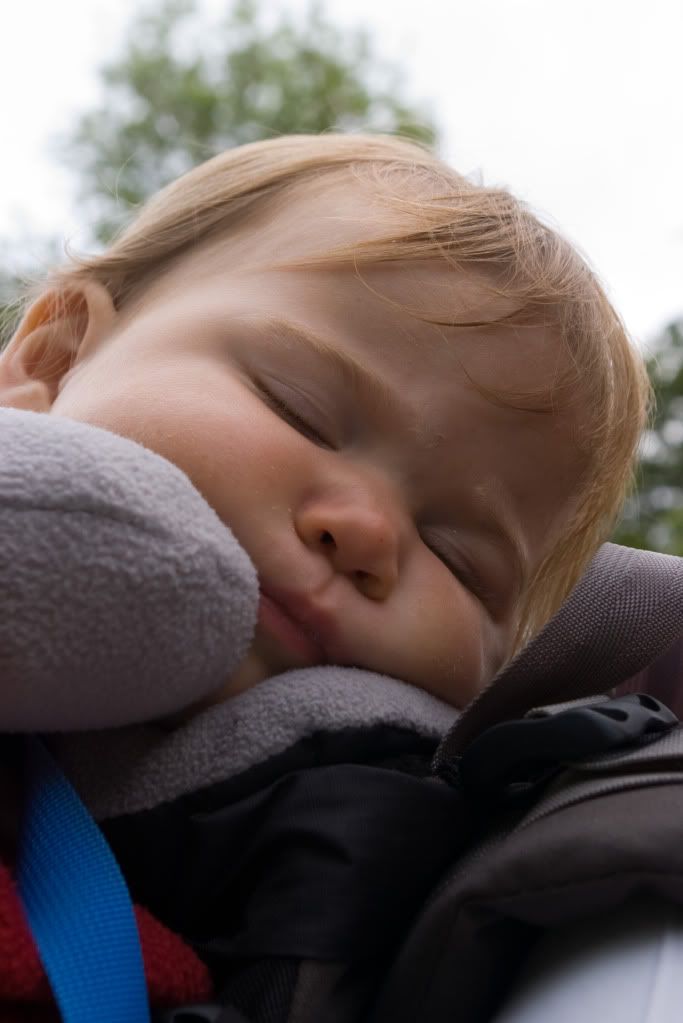 The walk continued upstream. This was the day that we really saw more of the Wharfe in a number of different attitudes. Wide and sweeping at Bolton Abbey, narrow and tumbling through the Strid. We saw quite a few birds we wouldn't normally see – something that looked like a sandpiper, something that sounded like a curlew, and a whole bunch of little birds that nested in the sandy banks of the river. We didn't spend a great deal of time exploring the abbey – we knew we'd be back – but I did get the chance to take a photo or two.
After the abbey came the stepping stones. Of course there is a nice dry bridge alongside them, but I've never been one to step back from a stepping stone. As you'll see below, it really is quite a broad river at this point, and there was a sign at the start warning steppers that the stones weren't guaranteed to be very well fixed given the recent volume of rain. Full of confidence, off I stepped. I sensibly let Elspeth take the camera – wouldn't want that getting wet – but I didn't do the same with Marisca. She'd enjoy it... I took it slowly, testing the firmness of each stone, only a short stride from the previous one. No problems. The water isn't deep – we'd get wet if I fell off but we wouldn't get hurt. It'd be fine. The thing was, each step took me further from safety. And I suddenly wanted Marisca to be safe. I froze – Elspeth thought I was stopping to be photographed, but really I just couldn't decide whether to go forward or try to turn around. There was a dog on the far bank watching too. Talk about pressure. Anyway, it's not a very interesting story really – I just decided that we'd be fine and off I strode over the remaining stones, one step on each just as I would walk on a road. Easy really. Still, I reckon the dog and Marisca both thought I was a superhero daddy.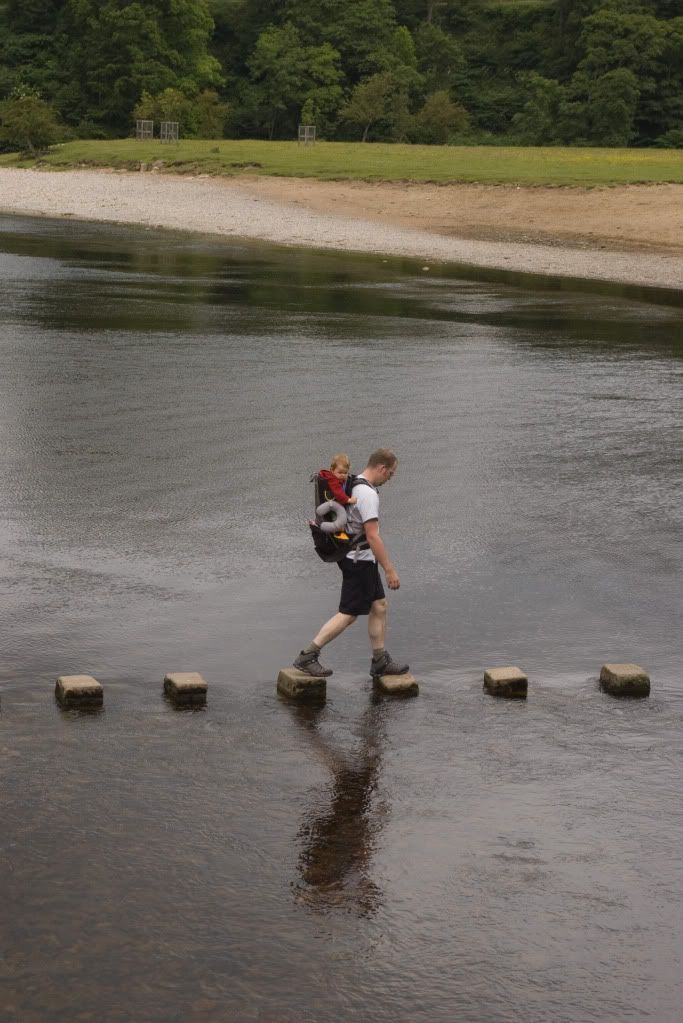 Later, Elspeth did her own fording – perhaps more impressive as those cobbles were pretty slippy!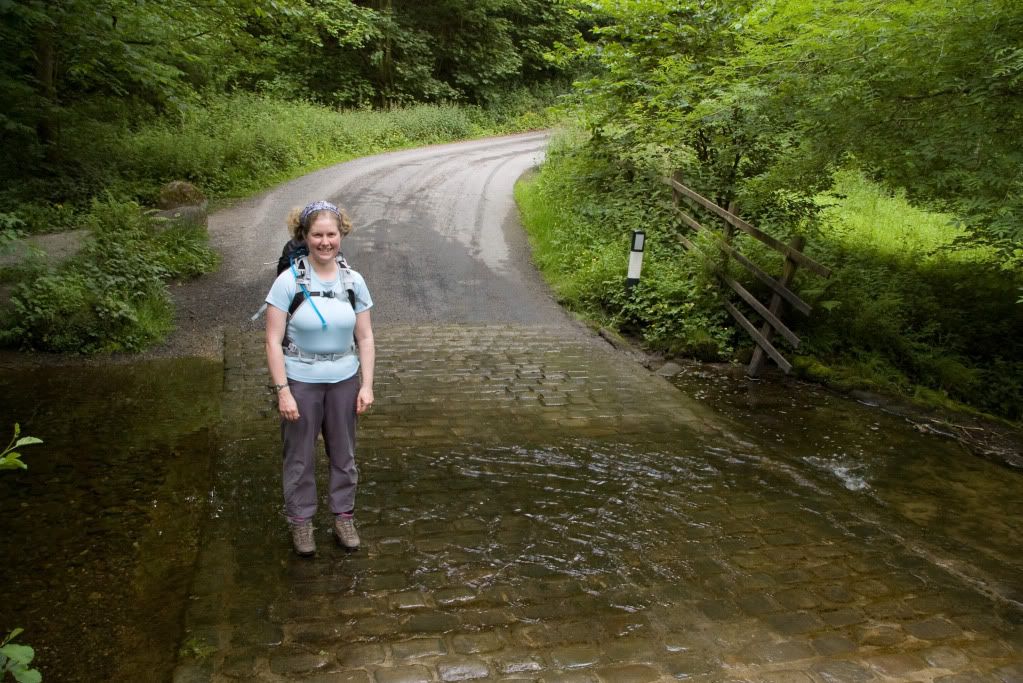 Up through the woods after the abbey was nice – quite steep banks made for a bit more altitudinal interest to the riverside walk, and we came across an odd sight: a log with thousands of coins pushed into it. Research since coming home has revealed that this isn't uncommon in these parts, but nobody really knows where they came from or whether they have any specific meaning.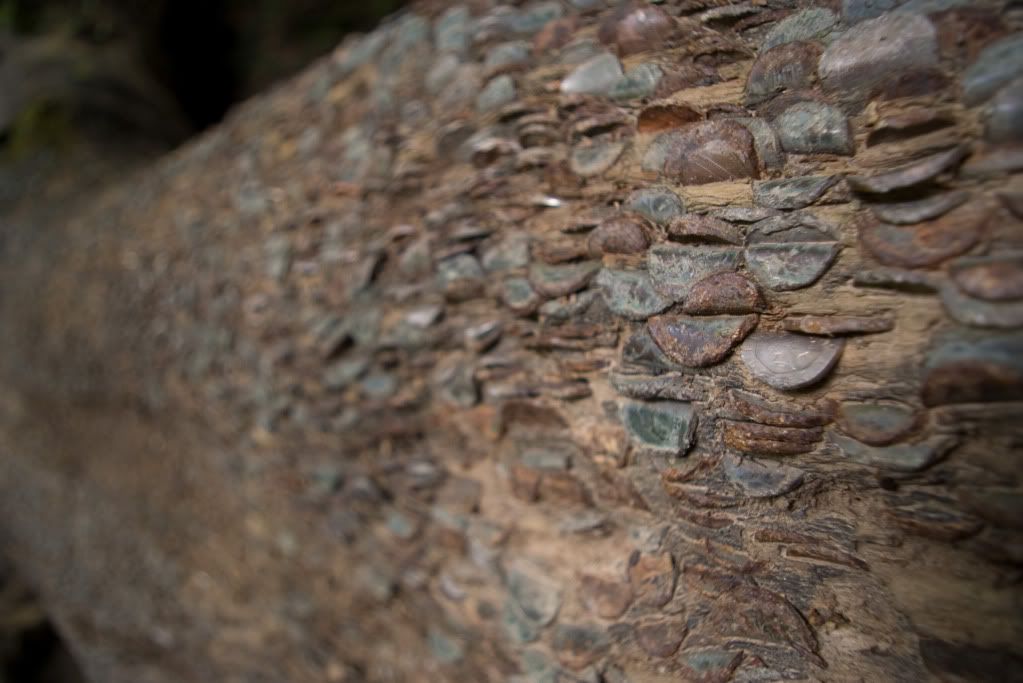 We came down out of the woods at about elevenses time – great timing to reach the Cavendish Pavilion. The timing was even better as the first rain of the walk also came at elevenses time. We got Marisca kitted out in her waterproofs and she met a lot of ducks up close. Lots of pointing and making quacking duck actions with her hand. We also had some very good cake. We may be back.
The Strid is a nice spot. The Wharfe valley takes on more compact dimensions and passes through a heavily wooded area, Strid Wood. A nice change from the fields of earlier in the day.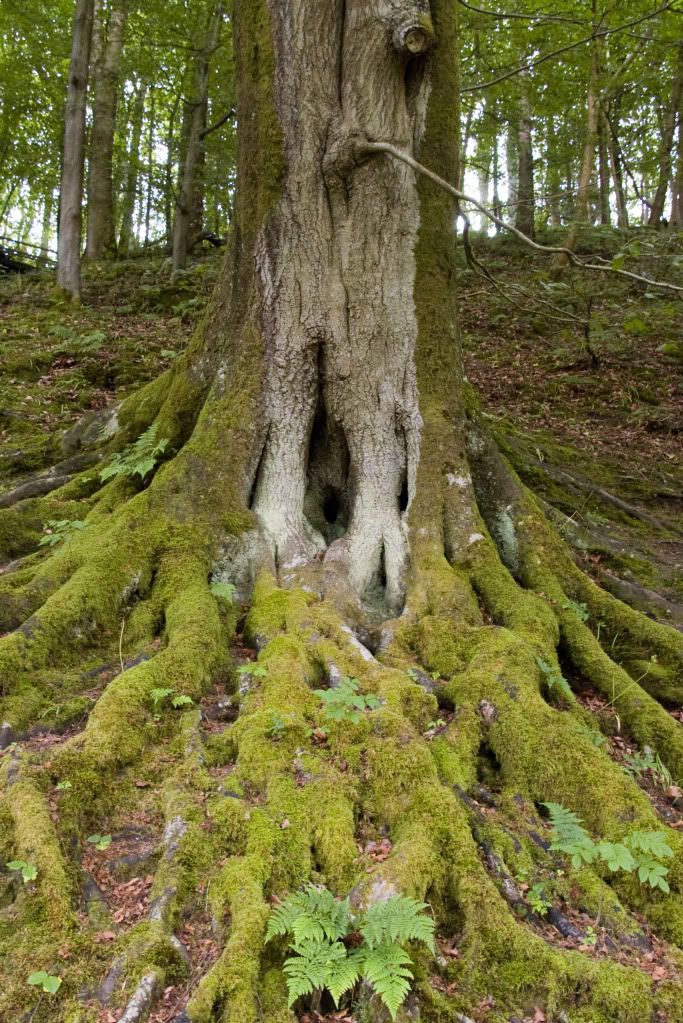 We actually found the river in the Strid to be a little disappointing. We'd been led to expect tumbling rapids of astonishing power, and we had a stream gurgling away through some rocks. There's definitely evidence that when the water is high it can be pretty awesome – check out the rock pools below – but it didn't do it for us on the day. Still, it was nice.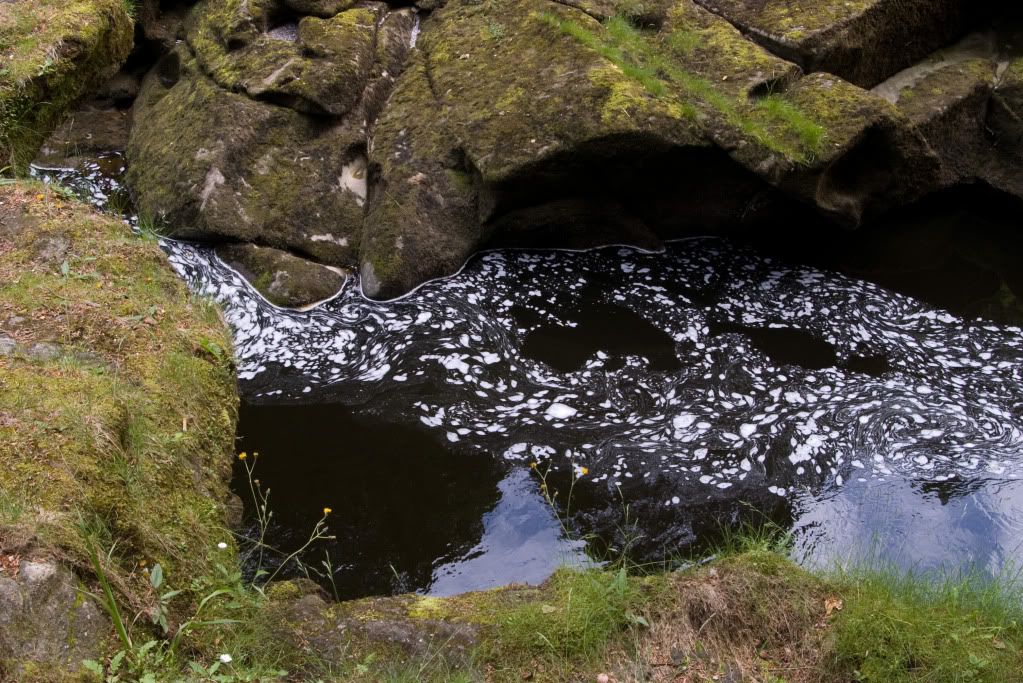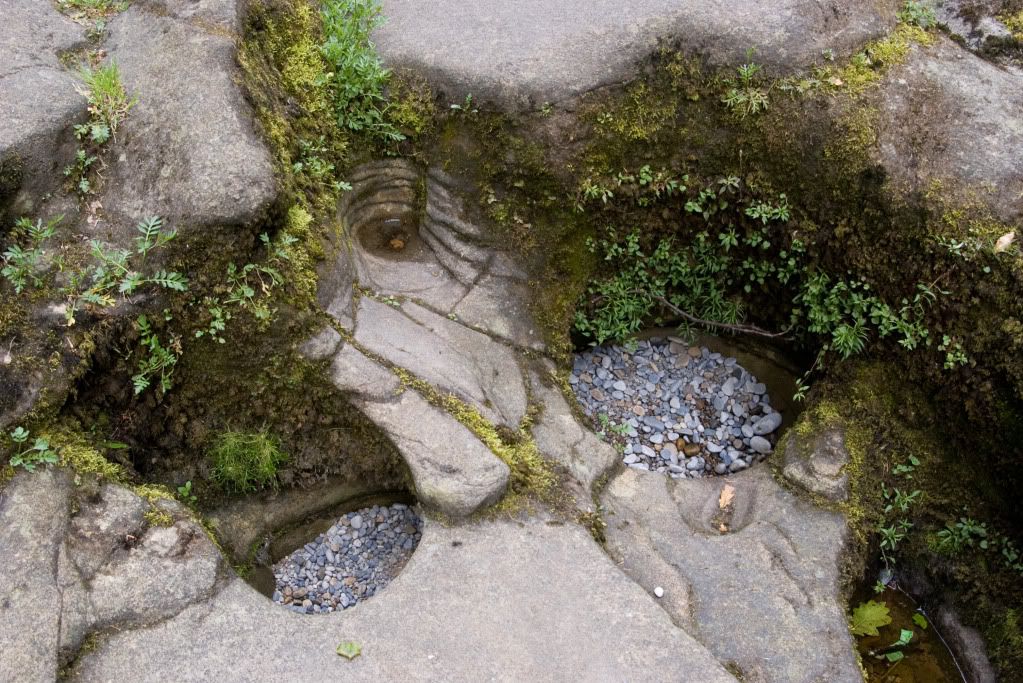 There are a few ghost stories in the guide book around this area. A deer that appears on a full moon. A lady leading a horse to see her lost love, that kind of thing. It did strike me as a little disingenuous that, when ghost stories include animals, it's always horses, dogs, sometimes deer. You never get ghost cows, do you? Maybe they're just less inclined to hang about. They know they're off to a better place. It did give us (me) 5 minutes of fun as I perfected the combination of moo and woooooooo in my ghost cow impression. Happy days. Our next stopping place was Barden Bridge for lunch. We diverted from the route to see Barden Tower (nothing to see folks) and, of course, didn't picnic in the nice shade it created, since we were explicitly asked not to by a number of signs. We did change Marisca's nappy there though as a protest. By the way, a walking lunch isn't a picnic, as there's no picnic blanket involved. Just to clear that up. In what becomes a tradition, most of the rest of the walk was 'nice riverside walking' to Burnsall. Nothing spectacular, although I did get this lovely over-the-shoulder picture of Marisca.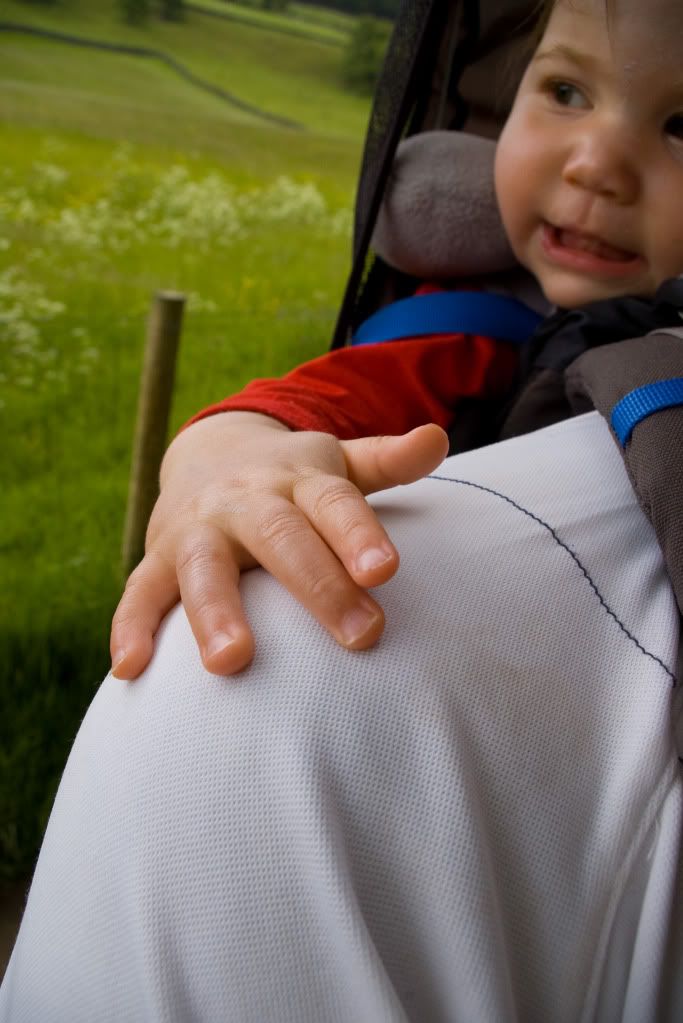 Burnsall we were surprised to find so many people parked on the bend in the river. It didn't really look like they were doing anything, just hanging about. Very odd, and annoyingly right in my favourite composition of the bridge and village beyond. Oh well, it was the end of the day's walking and it had been quite a hot afternoon so we were glad to arrive at our destination and get the weight off our backs.
We stayed at the Red Lion, a really nice spot. Somehow, despite the Red Lion being the most popular pub name in Britain, these guys have the .co.uk address. Must be the best. They told us when we booked in that they were 'very family friendly'. I'm not sure that they particularly qualified as that, no more so than anywhere else really, but it was certainly towards the top of our list of accommodation. There was a nice big lounge for Marisca to run around, a really good dinner (my pork belly was the best food of the holiday), and nice toiletries in the bathroom. Good beers too (mostly Theakston for me as the barman told me that the Ilkley Brewery Mary Jane was too girly. Well, he gave me a stern look when I asked about it.).
The room was pretty small and incredibly hot, but we didn't spend that much time there. Today set the pattern for many dinners to come though, as we tried to have dinner with Marisca at about 20 past 6, down in the bar. She hit meltdown just while we were expecting our main courses, and so we had to take it in turns to sit with her upstairs as she settled to sleep, while the other ate their dinner alone. After that we either all ate earlier, of planned her tea and our dinner separately.
We finished the day with some more conversation with an Australian couple – the first dales wayers we've met – and a couple who seemed mostly to be about fishing. Good company.
Next >> Day Three