Day 3 – Burnsall to Kettlewell
It was another late start today. Pubs are great places to stay if you have a baby and you can put them to bed and spend the evening with dinner and a beer downstairs, but they're not great places to stay if you still have the baby in the morning and they wake up at 6. Breakfast typically isn't until 8:30, presumably because everyone's been up late. Breakfast at the Red Lion, when it came, was very nice: fanciest full English of the holiday, one of those where you know that everything has been placed upon the plate. By the time we left (09:25 according to the timestamp on the photo below), Marisca was about ready for her first nap.
The route today takes us further up the Wharfe, of course, to Grassington. Once there we go high through limestone country to Kettlewell. When I was considerably younger my family had a little wooden bungalow in Grassington where we'd spend weekends throughout the year, so I was looking forward to reacquainting myself with the area.
Leaving Burnsall bridge (from a different angle than yesterday) we found a number of special double kissing gates – with my stile project we noticed pockets of specifically styled stiles throughout, and today was about kissing gates.
We made pretty rapid progress up to Grassington. The first spot of note on the route was Loup Scar. It appeared to be something of a cliff. No wolves.
The second was the Hebden Suspension Bridge, a surprising thing to find in these parts, but quite a fun thing nonetheless.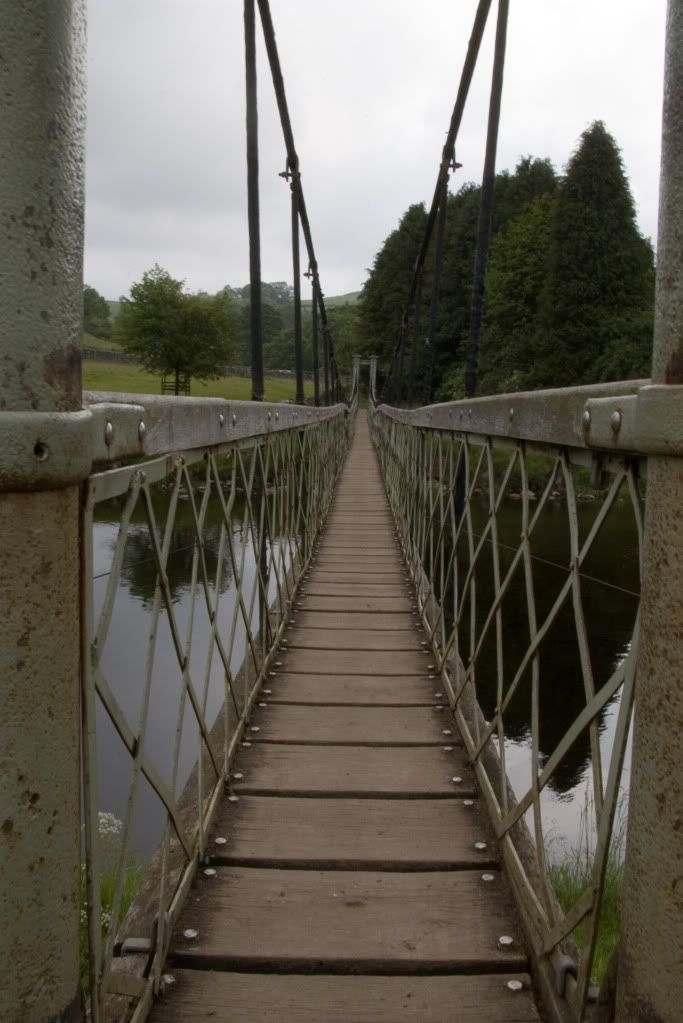 It wasn't until we got to Linton Falls, that I suddenly recognised where I was. Oddly, it was the gate at the end of the bridge over the falls that I recognised, rather than the falls themselves. Nevertheless, they were quite an impressive sight, and were drawing the crowds from Grassington. The grey crowds. A taste of what was to come once we hit the real tourist zone. I like the idea that the rose in the river below was the result of a romantic but ultimately fruitless pensioner wooing.
The feeling of recognition grew as we followed the walled path up the hill to the visitor centre, where Marisca first showed off her dry stone wall sitting skills
(with help)
and then proceeded to sit on the tiny chair in the visitor centre, colouring. Although trying to see how many pencils she can hold at once is really much more fun than colouring.
We were now wandering into town in search of a morning cup of tea. We diverted slightly on the way to visit the toffee shop, a childhood favourite. I even took a photo in anticipation of telling you all about the wonderful toffee, Yorkshire mix with the stripy fish, sherbet, and sugar mice that I enjoyed just as much as I did 20 years ago. But I hereby declare the toffee shop, in the modern vernacular, a fail. Closed. On a summer Thursday.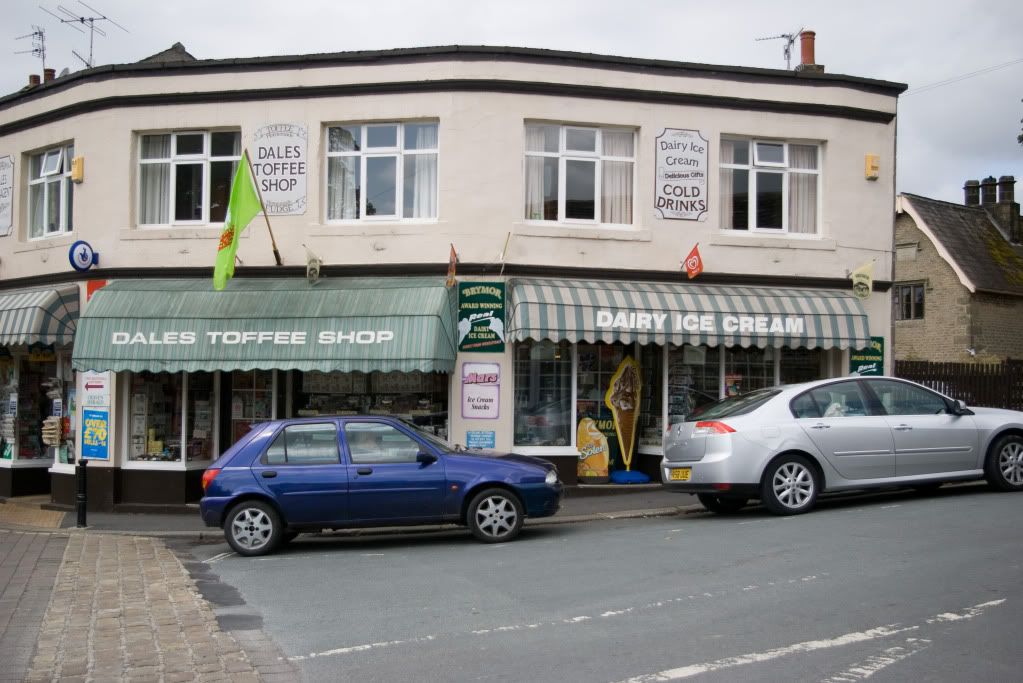 We had a look in at a gallery of fantastic oil paintings of the Dales High Way by a chap called David Starley who's exhibited in our local cafe back home.
After the disappointment of the toffee shop, we did manage to find a nice spot for a cup of tea. I banged my head. We then picked up a couple of pies for lunch, some new socks for Elspeth, and took a slight diversion from the route to pass the church we used to go to when in Grassington, and then up to see the big new house where our bungalow once stood.
We really enjoyed the rest of the day's walking. Frankly, we do like the tops and, although this wasn't particularly high, it gave a feeling of freshness that you don't get walking along the valley floor. We both like limestone country too so felt quite at home. Some synapse in my brain sparked and made be start singing Limestone Cowboy to the tune of Rhinestone Cowboy. If I had a need of a new nickname I might choose Limestone Cowboy. And if I was a Limestone Cowboy I might choose this horse.
It was also nice to get out of the tourist hotspot and feel a bit more alone again. It was so quiet that we decided to have lunch in the middle of the path. Well, it was the flattest place around.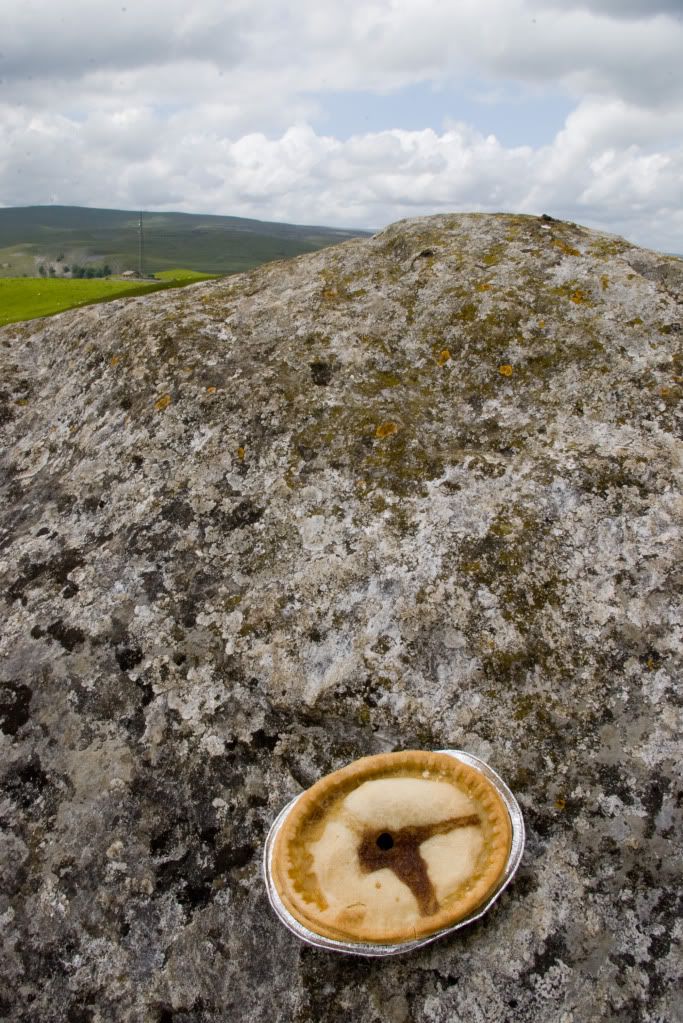 After the lunchtime pies we came upon the enormous pie (in pie terms), Coniston Pie. It's just a bunch of rocks, but it was enough to have me staring into the middle distance dreaming wistfully of standing on top of an enormous pie. Just for reference, I like pie.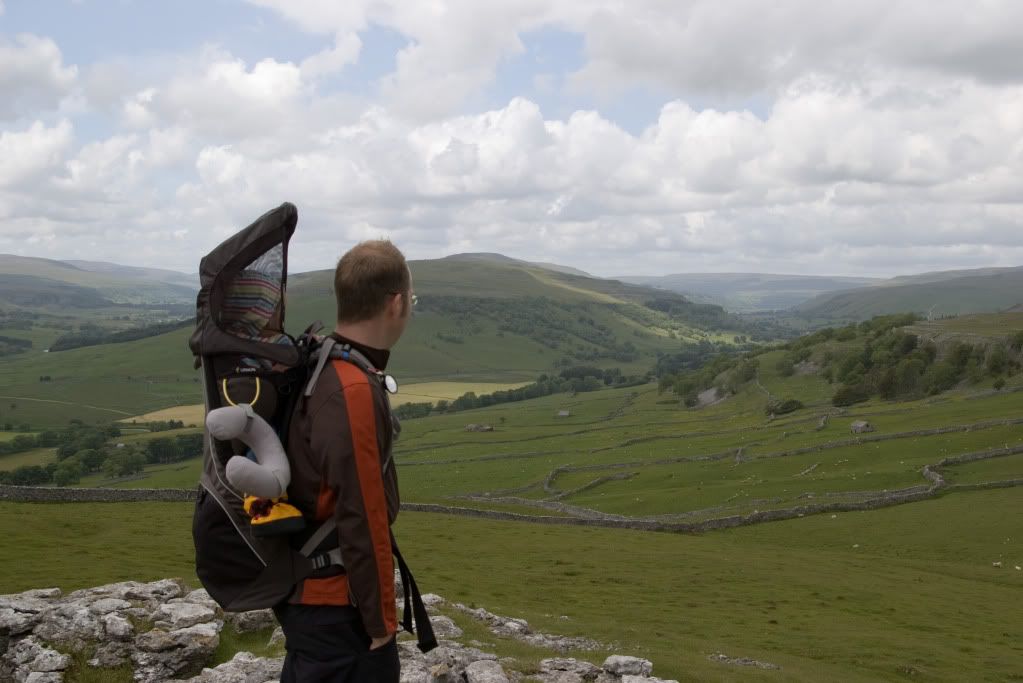 It was still quite early when we started descending into Kettlewell. We were very polite to the only people we saw, holding the gates open for them on their way down too. They happily wandered down a little way with us before realising that they were supposed to be going the other way. Not a great story, but I put it in because it rather tickled us at the time and I'm looking forward to another chuckle about it when I read this back.
There were lots of stiles on the way into Kettlewell – after a few miles of stile free walking up on the hill. We had an unscheduled stop for a grumpy girl in one of the nice wildflower meadows before strolling into Kettlewell and to the Racehorses.
After the dinner of the night before we decided to find a tea shop that would serve some tea for Risky (fish fingers and crinkle cut chips, yum). She was less impressed with the very funky uber-nozzled shower that we bathed her in.
The Racehorses was a bit of a disappointment. We only had high expectations because it was the most expensive place we stayed, and had it not been I think we'd have been perfectly happy with it. The whole of the upstairs stank of air freshener – even in the morning after Elspeth had turned off the three plugged into the corridor outside our room the previous night. The beer was well kept – entirely Timothy Taylors although it was a shame they didn't have the mild. The food was pretty good, although the steak pudding I ordered was actually an odd type of pie rather than a pudding. We chatted some more with the Australians – we now knew his name was Tony but never learned hers, so in my head I call her Guy – and headed to bed.
Next >> Day Four