Day 5 – Swarthgyll to Ribblehead Viaduct
Today we were free to have breakfast whenever we wanted, given that we were cooking it ourselves. The fridge had frozen the two tomatoes we had asked for, but given that we didn't remember why we'd asked for them, I couldn't feel too disappointed. The eggs were good, although shop bought rather than farm produced. We'd asked for sandwiches for a packed lunch and they turned up just as we were leaving. Given how much we were charged for them, they were a bit basic. No echoes of the fantastic packed lunches we had on the coast to coast.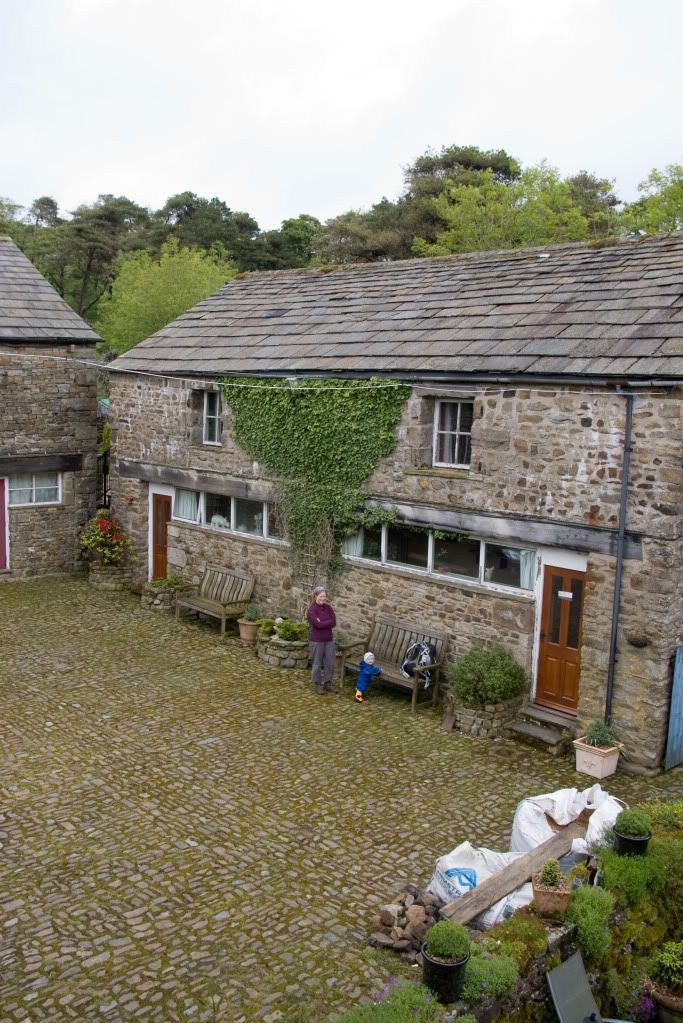 This was the halfway day, and I really enjoyed it. It was only a short one, over to Ribblehead for lunch, but it was the kind of walking I like. Indistinct moorland, jumping from tuft to tuft. Fresh wetness in your face. May not sound great, and the views were nothing to speak of, but it was just so outside. We were doing a short day to fit in a stay at the iconic Station Inn at Ribblehead and to avoid any long days.
Aside from a strange group of men at the farm at Cam Houses, the climb up to the highest point of the walk was without incident. Away from the obvious riverside sections of the walk, we found more Dales Way signs that we had previously.
When we reached the highest point, Cam High Road, at 520m, we celebrated a la mode with Kendal mint cake and a family photo.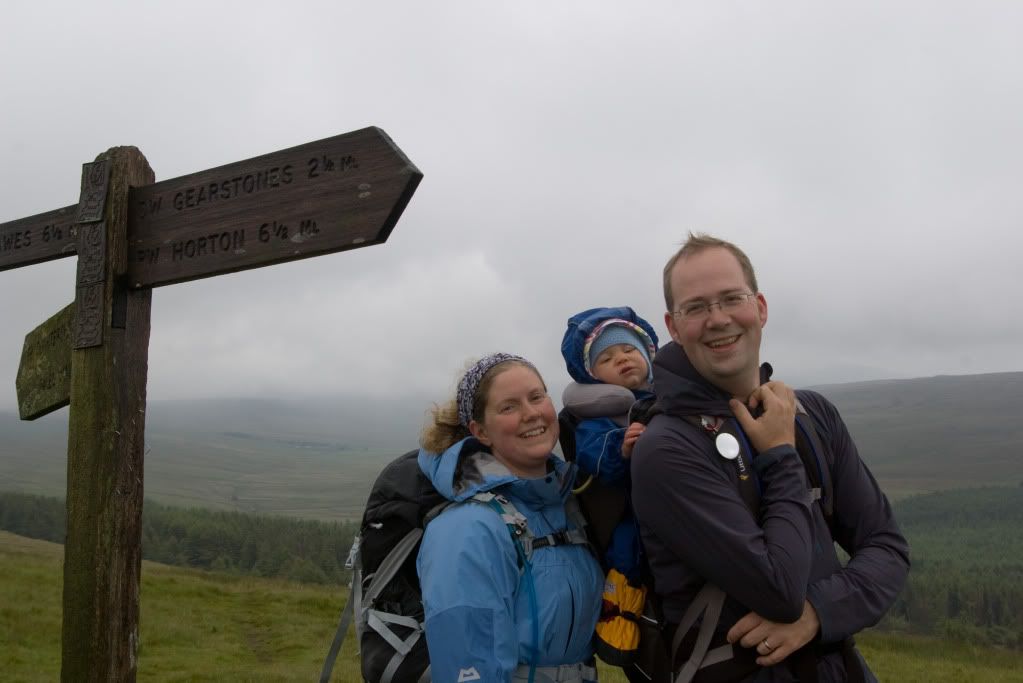 On the track down we were shocked to see some other walkers, although we subsequently realised that a) it was a Saturday, and b) this part of the walk was shared with the Pennine Way. Oddly enough the first trio we saw all had their ipod headphones in – seemed odd to listen to music (presumably) on a walk, and particularly when walking with a group.
A further shock to the system awaited at the bottom of the road, with quite literally hundreds of walkers and associated hangers on crossing the plain. More people than we'd seen since Grassington. It turned out to be a charity 3 Peaks event: I'm not sure how far along they were, but there were certainly a few suffering and a few more stopping for a burger at the van – although these may not have been doing the full walk.
We really like the Ribblehead viaduct. While not having any training in the subjects, both of us have a liking for engineering and architecture, and there is something in bridges that calls to us. I can't explain it so I won't, but if you have the same feeling then you'll understand why the enormous viaduct is so great. It also appears to have its own microclimate. We've been here at least four times and never seen it with any other backdrop than slate grey skies.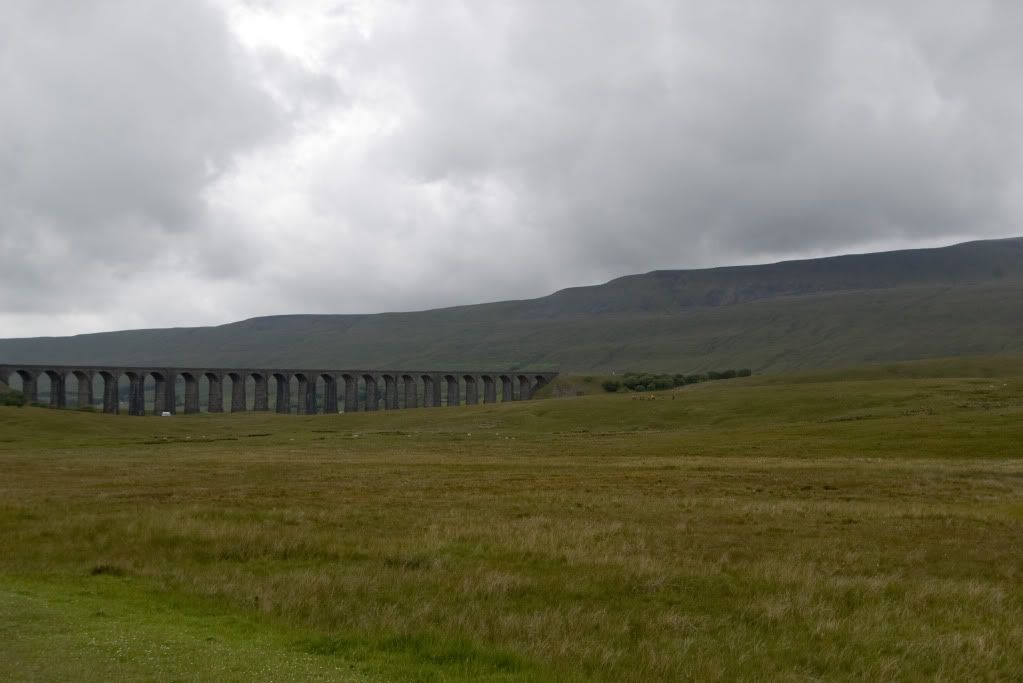 As we were finishing our day of walking at lunchtime, we decided to go on the Settle-Carlisle railway for the afternoon. We actually had the opportunity to get the train back home (worth remembering how easy it is to get out here), but decided to go the other way, up to Appleby for afternoon tea.
We had our packed lunch in the Ribblehead station visitor centre since the weather was quite grizzly, and then ran for a quick pint in the pub, and to book ourselves in for dinner. The train ride was nice: definitely an attractive line for a tourist trip. Appleby was a bit nothing, after all it was just an opportunity to go on the train really. We did find a nice place for tea, where they offered to make Risky exactly what she wanted (although subsequently didn't eat).
Heading back via two trains we had a few minutes to spend on the Kirby Stephen platform, enough for Marisca to crack out a few catalogue poses...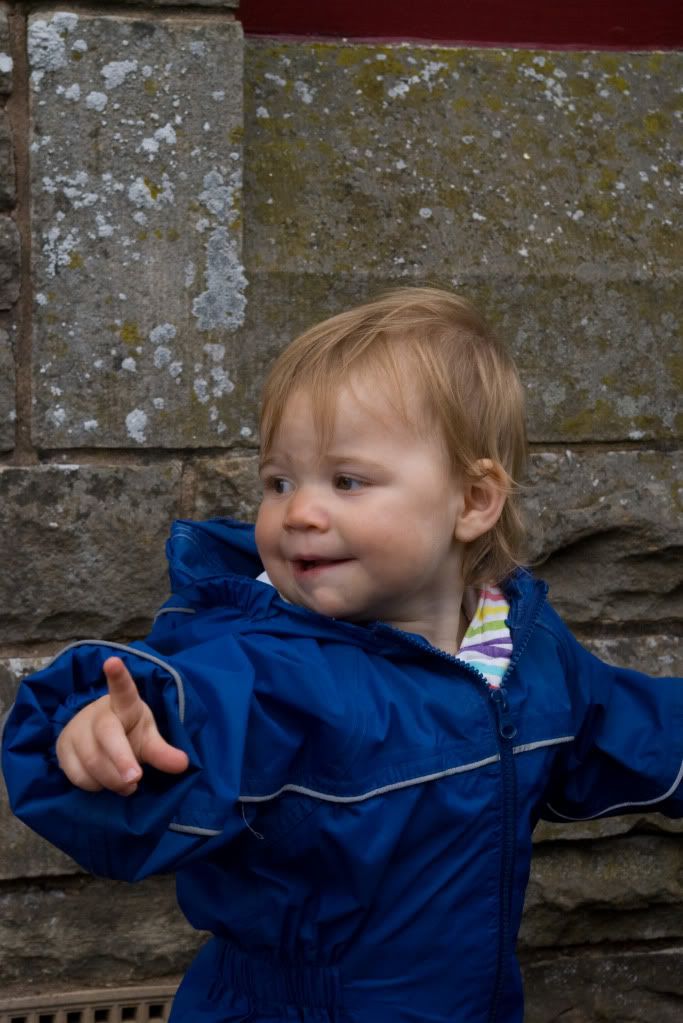 ...have a drink from our platypus...
...and investigate the case of the missing flowers. "What, me, no, the flowers were on the floor when I got here".
So, on to the evening. There wasn't quite enough space in our room for Marisca's pop up cot to be put on the floor, so she got to sleep on a bed on a bed – since we had a spare bunkbed. Before bed she had the remains of the afternoon tea and lots of yoghurt, and then a bath in the incredibly hot shared bathroom.
With Marisca in bed we headed down for dinner. There was a large group due in (from the charity event, I think) and so we felt a little rushed and were moved from place to place a couple of times. However, the dinner itself was really good. I ordered the mixed grill: "Are you sure? Very few people finish it". It was listed on the specials board as 'not for the feinthearthed [sic]'. I wasn't sic. Indeed I really enjoyed it – nobody should underestimate my capacity for meat. Nice beers too. I'm not sure why I then agreed with Elspeth about the need for pudding – the sticky toffee pudding did push me over the edge and I needed to beat a track to bed to lie in some discomfort for a little while until my stomach regained some of its elasticity.
By the morning I was absolutely fine – it certainly didn't put me off my full English!
Next >> Day Six